Traveling to Italy so often -- at least several times a year -- I've discovered that my favorite season to visit Italy is winter, especially right around Christmas. This is the time when tourist crowds are more tame, the weather is usually still mild and Italians are doing what they do best: bringing together family, food and faith according to age-old traditions. While modern life have caught up with many other areas of Italian life, Christmas in Italy still seems to be held sacred. Home to the Vatican, and many noteworthy churches, Italy's capital of Rome, in particular, offers a wealth of free Christmas festivities:
Piazza Navona's Christmas Market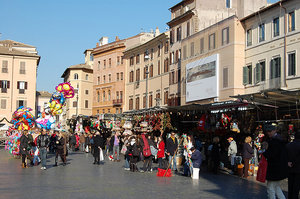 (Photo by Sean O'Neill, flickr.com)
Italy's Christmas markets don't quite have the notoriety of their northern European cousins, but they still bring Old World charm to the holiday season. Between the prelude to Christmas and the Feast of the Epiphany (January 6), Romans head to Piazza Navona to peruse the stalls selling food, candy, crafts and toys. Yes, there is an Italian Santa Claus (Babbo Natale) and he can be seen both in person and in the toys made from his image. Even more popular is La Befana, the good witch who hands out candy to children on the Epiphany. During the holiday season, Piazza Navona truly comes to life especially in the early evening for la passeggiata -- the Italian tradition of an evening walk around the neighborhood.
The Nativity Museum (Museo Tipologico Internazionale del Presepio)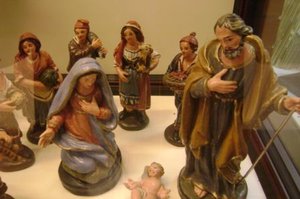 (Photo by Frances Kidd)
A few years ago, when my American expat friend Frances Kidd introduced me to this small museum in her adopted hometown, I felt like I had been let in on a delicious Christmas secret (like what Santa was planning to bring me). Many native Romans don't even know that inside inside the Church of Ss. Quirico e Giulitta is a museum devoted exclusively to all the elements of the presepio (nativity scene). As Frances reminded me, "Italians are crazy about nativity scenes -- almost every Italian home is sure to have at least one if not more on display during the Christmas holiday."
Over 3,000 nativity figures and mangers -- from every corner Italy and the world - are on display at Rome's Nativity Museum. According to Frances, you will find pieces made from all kinds of materials - clay, stone, coal, cloth -- even eggs and marzipan. The museum, founded in 1953 by the run by the Italian Association of Friends of the Nativity, has extended hours during the holidays but is also open most of the rest of the year.
Midnight Mass at the Vatican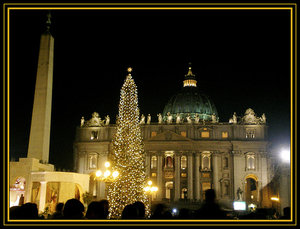 (Photo by sunshine city, flickr.com)
Likely the most famous Midnight Mass in the world, Christmas Eve services at St. Peter's Basilica in Vatican City are once-in-a-lifetime event for those who are lucky enough to get tickets to sit inside the church. Like many Christmas Eve services, ""Midnight Mass" at the Vatican actually now starts two hours earlier (10 p.m.) than the traditional time. Although challenging, it is possible to score these tickets to the Midnight Mass at the Vatican but you have to start trying early -- like in May -- and work any connections (now is the time to reach out to your cousin the bishop) you may have. Yet, you don't need tickets to soak up the magical feeling in St. Peter's Square on Christmas Eve. When my parents and I spent an impromptu Christmas in Rome a few years back, we stood in St. Peter's Square -- next to the life-size nativity scene -- and watched the mass on large video screens. The warm energy and joy our fellow pilgrims in the square that night added to the magical experience.
Christmas Eve at Ara Coeli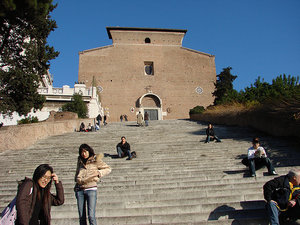 (Photo by Allie Caulfield, flickr.com)
Midnight Mass at the Vatican isn't the only game in town for Christmas Eve in Rome. The Eternal City is home to over 600 churches -- all of which have their own special celebrations. Atop Capitoline Hill, the 7th-century Church of Santa Maria in Ara Coeli is a stunning sight on Christmas Eve with candles on each of the 124 steps leading to its entrance. This church is considered the official church of the Roman people and bears a fascinating history. Inside, a statue of baby Jesus (Santo Bambino) -- supposedly carved out of wood taken from an olive tree in the Garden of Gethsemane where Jesus prayed before his crucifixion - is waiting to be unveiled for just one day of the year. Ara Coeli is the official church of It of the Italian Senate and the Roman people (Senatus Populusque Romanus).
For more on Christmas in Rome, get a free copy of Dream of Italy's 35-page Christmas in Italy guide.