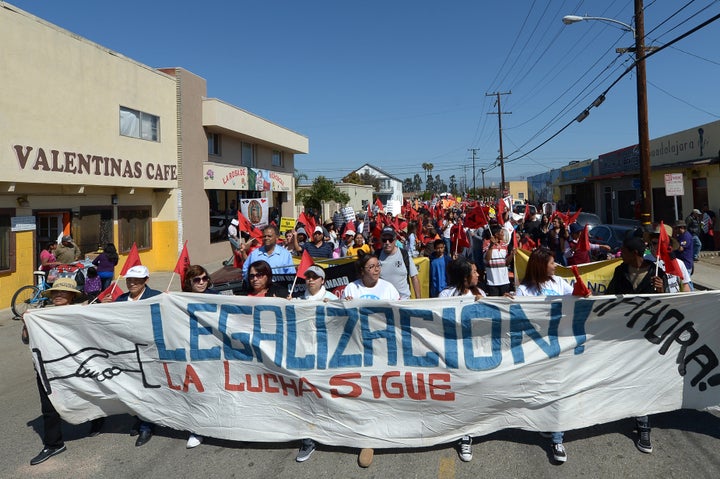 Earlier this week, Jewish families throughout the world sat down at their dinner tables to celebrate Passover. As we do each year at this time, we recounted the exodus story that defines our past, shapes our present and inspires our future. It is our foundational story about the pursuit of freedom from oppression.
One of the highlights of every seder (the ritual meal) is the section of the ritual known as "The Four Questions," a set of queries about what makes this night different from all other nights. In addition to the traditional questions included in the Haggadah (the seder guide), this year many Jews across the country asked these more personal questions as well: "What brought your family to America? What did your family leave behind, and what opportunity were they seeking? How does your story help you understand today's immigrants and what legal reforms might be necessary?"
In answer, grandparents recalled their own immigration stories. Some aunts and uncles shared that their families came here poor, scared and separated from one another for long stretches of time. Parents told stories about their own parents escaping persecution and seeking opportunity. Siblings and cousins listened intently.
Why did we ask these questions and tell these stories this year?
In the spirit of the seder, let us address this in four parts:
1. Why tell our stories and discuss immigration policy reform during Passover this year?
Our country is on the brink of making critical decisions about how we will relate to the more than 11 million immigrants without documentation who call the United States home. During Passover, we read from the Torah, "You shall not oppress the stranger, for you know the soul of the stranger because you were strangers in the land of Egypt" (Exodus 23:9). In this verse, we are charged to exercise profound empathy as a people who for generations were strangers in foreign lands, often vulnerable to the oppressive measures levied upon us. And we remember just a few generations ago, when many of us were new to this country and had to fight for full inclusion in American life. In reflecting on the experiences of today's aspiring Americans, we hear echoes of our own story.
2. The Passover story may inspire us to think about immigration issues, but what needs to actually happen today?
We need laws that bring dignity and justice to the immigration experience. Concretely, this should include a clear pathway to citizenship; reduced waiting times for the reunification of families separated from one another, including LGBT families; protection of the rights and safety of workers wishing to migrate here; and border protection policies that are both consistent with American humanitarian values and that keep our country safe.
3. How can we take action to help create sensible and fair immigration reform?
This year, the Reform Movement of Judaism has launched two related campaigns to help ensure that smart, fair and caring changes are made:
Rabbis Organizing Rabbis, a national campaign of Reform rabbis organized to work on critical issues in our country, is acting together for comprehensive immigration reform.

Reform CA

, a statewide campaign of the California Reform Movement to act powerfully for justice in California, is working to ensure passage of the TRUST Act.
It is incumbent upon us to stand together with our brothers and sisters from different faiths and races and urge Congress to put forth and pass comprehensive national legislation, and to urge the California Legislature to pass the TRUST Act and Gov. Jerry Brown to sign it into law.

4. We began Passover by reading about the exodus, but we conclude the holiday with a reading from Isaiah. Why?
Our exodus story is a starting point that is not only about looking back, but is also about imagining a different future, not just for us, but for all people. The biblical readings throughout the days of Passover explore different dimensions of our ancestors' journey from oppression to freedom, until the last day when we reach a crescendo with the prophet Isaiah's words:
The wolf shall dwell with the lamb,
The leopard lie down with the kid; . . .
The cow and the bear shall graze,
Their young shall lie down together;
And the lion, like the ox, shall eat straw (Isaiah 11:6-7, Jewish Publication Society translation).
Instead of seeing one's neighbor as the enemy, lying in wait, ready to pounce and destroy, this vision of redemption is a picture of calm, safety and trust. We learn that redemption happens when the most vulnerable of the land is treated "b'mishor," with equity and fairness (Isaiah 11:4).
Redemption is a powerful word, a loaded word, even an overloaded word. Some days it feels like an utterly unreachable word. But on the final day of Passover, it feels more than ever within our grasp as Isaiah calls us to imagine into existence a redeemed world, in which no one need live with the fear that the lion is about to pounce, that their world is about to be ravaged.
This year, as we celebrate our festival of liberation, let us bring Isaiah's vision of redemption one small step closer to reality through working in partnership with today's immigrant communities for comprehensive immigration reform. For as Michael Walzer writes in his book "Exodus and Revolution": "There is no way to get from here to there except by joining together and marching."
ON Scripture -- The Torah is a weekly Jewish scriptural commentary, produced in collaboration with Odyssey Networks and Hebrew College. Thought leaders from the United States and beyond offer their insights into the weekly Torah portion and contemporary social, political, and spiritual life.
Related
Popular in the Community