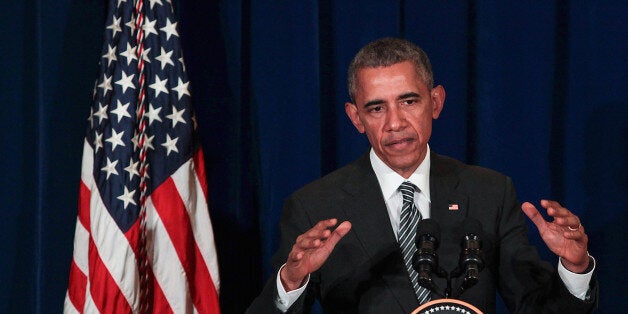 The US House of Representatives voted last Thursday in favor of a bill suspending Syrian refugee resettlement pending new, stringent screening requirements for US agencies. The bill has gained Congressional support in light of the recent ISIS attack on Paris, and over half of US state governors have vowed to block refugee resettlement in their states. The proposed plan would also halt President Obama's pledge to resettle 10,000 Syrian refugees in the US. Although Senate Democrats are expected to block passage of the bill, a public debate has developed around whether refugees pose a risk to national security. Lawmakers and the American public should consider the following four points in support of resettlement as they wade through this debate.
Gaining refugee status in the US is not easy.
From a security standpoint, geography affords the US a huge advantage when it comes to vetting refugees, a process it already handles extremely well. The US has resettled nearly 800,000 refugees since September 11, 2001, and only three have been arrested for activities related to terrorism. This is partially due to overhauling in the wake of the 9/11 attacks that dictates the UN High Commissioner for Refugees (UNHCR) refer candidates to the US government after an initial background check; the Department of Homeland Security and other federal agencies then further screen candidates against counterterrorism databases. Refugees are permitted to live in the US for a year and allowed to apply for a green card, which requires more security screening. All told, resettlement screening typically takes 18 months. Put to one side ISIS's disdain for emigrants from its territory and the majority of Muslims' rejection of the group's ideology, and the arduous vetting process would make posing as a refugee one of the most difficult ways for a terrorist to enter the US.
Debating the refugee issue detracts attention from other serious threats
Focusing extensively on the potential threats posed by refugees distracts from other pressing security challenges highlighted by the Paris attacks. Paris raised concerns that ISIS might use refugees as sheep's clothing to infiltrate Western states. However, none of the attackers have been confirmed as refugees, and the majority were actually citizens of France or Belgium. The attackers' ability to coordinate and execute their plan should sound more alarms about the intelligence failures involved. French intelligence knew of at least three of the attackers, and received warnings about their movements from foreign intelligence services in the leadup to the attack. Several of the attackers even traveled to Syria to fight before returning to France and Belgium. While intelligence agencies in these countries were aware of their presence back home, they were unable to connect the suspects to each other or the chatter ahead of the attacks. Radicals at home, rather than new arrivals, were the perpetrators in France.
The US should learn from the failures that contributed to ISIS's awful success with the Paris attacks. French staffing constraints for terror threats and weak intelligence sharing between European states, combined with higher numbers of ISIS supporters among Europe's Muslims, are problems that the US does not currently share. However, visa waivers that permit European travelers to enter the US without interviews and background checks could pose a direct challenge to national security. Officials speculated that at least one of the Paris attackers could have slipped through the watchlist system, giving gaps in European intelligence added significance. The US will likely take steps to reform the waiver process for European states in the coming days, with proposed legislation due in early December that would prevent travelers who had visited Iraq or Syria in the last five years from receiving a waiver. These and other challenges, like how best to track returning foreign terrorist fighters (FTF) and the difficulties of working around personal encryption technologies, are worthy of greater deliberation and constructive debate than the threat from refugees.
Refugee resettlement counters ISIS narratives
Countering ISIS narratives, which vilify the US and are intended to radicalize youths on the fringes of society, should remain a priority for policymakers. The politicization of the refugee issue plays directly into ISIS's hands. While lawmakers have presented their posturing as standing tough on domestic security, the group has aimed to cast itself as the only alternative to a Western society indifferent to the plight of Syrian Muslims. ISIS has incorporated footage of drowning and mistreated refugees into its propaganda alongside religious rhetoric to demonstrate that it is the true protector of the global Sunni Muslim community. Comparing refugees to rabid dogs or calling for the resettlement only of Syrian Christians (a call, it is worth noting, that US Christian groups do not support), combined with the politicians' arguments against resettlement in their states, seemingly affirm these narratives. Openly welcoming beleaguered Syrians could go a long way toward combating ISIS's depiction of an uncaring West, and appeal to the marginalized populations the group hopes to radicalize.
The reality is that US has done comparatively little to place refugees given since it is geographically removed from the most pressing influxes faced by Syria's neighbors. Proximity to the conflict has burdened these states immensely. Turkey has taken in over 2 million Syrians, Lebanon over 1 million, and Jordan over 600,000, and even ISIS-plagued Iraq has taken in over 200,000. Meanwhile, eastern and southern Europe's political struggles over how to manage the refugees arriving on their shores and at their borders have been immense. Germany is expected to resettle 800,000 refugees by the end of 2015. Even France has committed to accept 30,000. While the US has provided $4 billion in humanitarian aid to Syria since the beginning of the war, the 1,682 refugees resettled by the US so far pale in comparison to international partners, and resettling 10,000 additional refugees will do very little to move the needle.
The international refugee burden is unlikely to decrease while Syria's civil war rages on and ISIS occupies large swaths of territory in Iraq and Syria. There are cogent, well-articulated arguments for and against US intervention to end the chaos that permits ISIS to thrive and the tortuous Assad regime to drive its citizens from its borders. But so long as the Obama administration remains determined to avoid another protracted military campaign in the Middle East, the US must do what it can to help to mitigate the humanitarian fallout from Syria's tragedy. Geography, resources, and a shared commitment against extremism have left the US particularly well-positioned to protect itself against Iraq and Syria's spillover. But this safety does not absolve the US of responsibility to join the international community in assisting refugees. Given the nation's relative safety, its historical legacy as a refugee haven, and its prominent role in shaping the modern Middle East, lawmakers owe the American and Syrian peoples a public discussion that is based in fact. To do otherwise would be unconscionable.
Calling all HuffPost superfans!
Sign up for membership to become a founding member and help shape HuffPost's next chapter