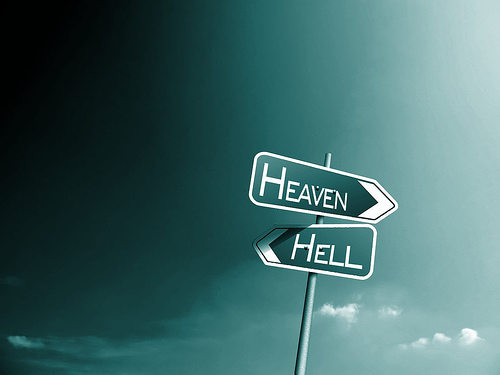 This may come as a shock, but despite what your ex says about you, you're probably not going to Hell. Relieved? Good! But I hate to break it to you that your ex isn't going to Hell either. What was that? Will you both spend eternity together in Heaven? Of course not! Then you'd both be in Hell! Are you paying attention at all?
Now I know what some of you may be thinking (and that's precisely why I won't be replying to every comment). How can I, blogger-person, know with certainty who is and isn't going to Hell? How can a mere mortal know such mysteries of divine judgment? Easy. I used the word probably in the title. If I'm wrong, I'm off the hook (and your ex is going to Hell. It's a win-win). So let's not get too hung up on "me playing God" and let's just enjoy the show. You might learn something. Or not.
So, of course when I say the word "Hell", a lot of images come to mind. Let's just focus on the basic Hell for now, the one with the fire and the brimstone and the screaming and the pitchforks and the Mormons. You may edit out the fire, or imagine it's invisible so Hell can be "dark as Hell" too. Maybe it's just really really humid, or really really smelly. Imagine that place that is just so terrible that the only thing worse is staying in that doomed-from-the-start relationship with your ex, whose very memory is preventing you from enjoying a simple blog post.
Where were we? Oh yeah! The blog post!
So, yeah. I'm just not buying the whole Hell thing. It just doesn't add up. Not that everything adds up in life, but this one really takes the "not adding up" cake. I can give you four good reasons why you can just rest a little easier tonight. You're probably not going to Hell because...
If we're going with the model that involves fire, or at least really really hot stuff like plasma, then stars create an awkward dilemma for eternal Hellfire. I personally grew up hearing that Hell was in the center of the earth. This is by no means a universally accepted location, but it emphasizes the notion that Hell is really really hot, much like the center of our planet. But we all know that there are much hotter places than Earth's core. While our pale blue dot's center tops out at about 5430 Degrees Celsius (or 9806 Degrees Fahrenheit for all you folks from 'Merica) which actually matches the surface temperature of our Sun, it's snow globes compared to the solar core sporting a whopping 15,000,000 degrees Celsius. (If you're waiting for the Fahrenheit amount, you're missing the point).
So, there's no way God would choose Earth as the host for this party. He'd go big. He'd really show off how bad he wanted us to burn by putting us inside of a star. But if you think the Sun is the logical locale, think again.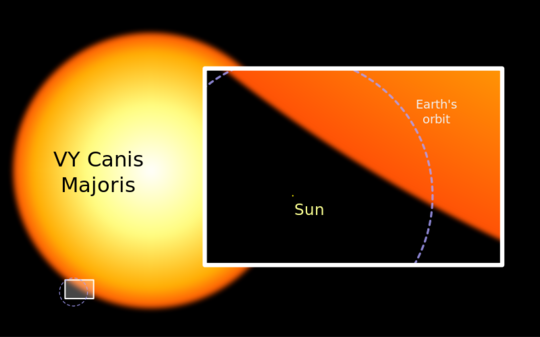 If you look closely, you can actually see the Sun crapping its pants.
Stars get larger and larger. Therefore, if Hell exists anywhere in this universe, it must be in the largest star. Well, we don't know which star that would be, or where it is exactly, but we know that any of these stars are going to be hella-far away. When your ex dies, they'd have to travel there. There's only two viable methods of interstellar space travel. Light speed wouldn't work, because the next closest stars (Alpha Centauri A, B, and Proxima) are still over 4 light years away. Ain't nobody got time for that! God would have to use wormholes to transport us to his abode of infinite justice. He'd be bending space, just for us. Isn't that sweet?
That sounds like an awful lot of trouble for God. Why didn't he just put us closer to Hell? He's basically deferring to his magic teleportation powers to bypass the scientific limitations (the very limitations that he... set up... himself). In Scripture, God rarely allows such wormhole teleportation. Obviously we remember when Jesus floated up in the air and waved goodbye to the audience, saying really profound stuff before he disappeared. You think he's letting you cruise the cosmos like his own kid? Fuggetaboutit. And just think, even if God somehow did transport us to his flame of choice, he'd have to teleport us every time that star burned out. That's a lot of effort to punish us for keeping Playboy magazines under the mattress.
Okay, so we're only on #1 and we've already concluded we're probably not headed to any Hell located in this universe. You'd think that'd pretty much cover our bases right? But I bet there's at least a few of you out there who believe there's a spiritual world, all misty/spooky and shit. Well, I didn't forget about you folks. Don't worry, because you're probably not going to that Hell either, because of...
Have you ever undergone a surgical procedure where anesthesia was required? In other words, were you ever unconscious while someone cut you open and tinkered around inside of you? Luckily for you, you didn't feel a thing. Well, if you did feel anything then you're probably the proud recipient of a large medical malpractice settlement and you're too busy drinking champagne from golden chalices to remember the unpleasantness. When you die, you don't feel anything anymore. Nothing. There's no central nervous system to send those "ouch" signals to the brain. Heck, there's no brain activity when you die either. There's not a whole lot of anything going on in the "you" department after it's all over.
Now obviously many of you may be worried about "spiritual fire". Your body may be gone but your soul remains, right? God is pissed and wants your soul to suffer for all that crap you did with that filthy body of yours. Well, think about what "spiritual fire" would mean. If you are a soul and you can still feel pain, still have thoughts, still experience suffering and all the stuff that comes along with a spiritual Hell, then...
C'mon, people... you know this one...
If your soul provides all the comforts and discomforts of a body... then you never needed a body in the first place. God made the Earth for a bunch of meat-sack soul-containers to bump into each other and start wars and buy over-priced health insurance, for no reason. If God wanted you to suffer after you die, then why make a physical you at all? Why make a physical universe at all? If the universe matters at all, it matters more than our own physical presence within it. That's right. If there's a spiritual Hell, if there's a Hell somewhere on "the other side", then that's like God giving this side a big middle finger.
Now I know this is only #2 and we've put together a decent case against Hell existing in either this universe or some spiritual realm, but if I know Christians (and boy do I ever), I suspect that a few are reaching for their trusty dusty Bibles right now. I'll get mine out too. But guess what? You're still probably not going to Hell because...
"If anyone worships the beast and his image, and receives a mark on his forehead or on his hand, he also will drink of the wine of the wrath of God, which is mixed in full strength in the cup of His anger; and he will be tormented with fire and brimstone in the presence of the holy angels and in the presence of the Lamb. And the smoke of their torment goes up forever and ever; they have no rest day and night, those who worship the beast and his image, and whoever receives the mark of his name." - Revelation 14:9b-11 NIV.
Pretty heavy stuff, right? The smoke goes up forever. Eternal torment, right there in black and white. At the end of time, God kicks some serious human ass. But that verse... it sounds familiar. It reminds me of another verse, an earlier verse.
Edom's streams will be turned into pitch, her dust into burning sulfur; her land will become blazing pitch! It will not be quenched night or day; its smoke will rise forever. From generation to generation it will lie desolate; no one will ever pass through it again. - Isaiah 34:9-10 NIV.
Edom is still burning? Really? I mean, it is the Bible. And the Bible is the source of authority on all the Hell-talk anyway, right? But we don't have to simply trust Scripture this time. I'm sure we can just confirm this ourselves by finding a recent image of Edom. Get your popcorn, grab a couple loved-ones, lower the lights, and let's enjoy the never-ending carnage together!
Hmm. This is awkward. Maybe the Bible just likes to talk a big game. Maybe the Bible uses terms like "forever and ever" to emphasize the extent of the destruction, not the duration of the destruction. Maybe Hitler doesn't need to boil in lava for eternity; maybe God just wants to look down ominously from the ledge inside Mount Doom as Hitler grasps the Ring of Power in a moment of evil defiance before he melts. There's actually a whole neat theology about this called Annihilationism. If you're interested, check out this article.
I don't know about you, but I'm just more smitten with this God fellow than ever!
Still worried you might find yourself in a leaky rowboat in a lake of fire? Don't be! Because...
I've mentioned this before, and I'll never cease mentioning it. Moses totally schooled God in Exodus 32. Here's the Biblical proof, if proof is the right word.
The Lord said to Moses, "I have seen this people, how stiff-necked they are. Now let me alone, so that my wrath may burn hot against them and I may consume them; and of you I will make a great nation." Exodus 32:9-10 NRSV.
Okay, so God was like "Leave me alone. I'm pissed. I don't even want you to talk sense into me, Moses." But then Moses does the righteous thing by disobeying God and giving God three reasons why he's wrong to be so bitchy.
But Moses implored the Lord his God, and said, "O Lord, why does your wrath burn hot against your people, whom you brought out of the land of Egypt with great power and with a mighty hand? Why should the Egyptians say, 'It was with evil intent that he brought them out to kill them in the mountains, and to consume them from the face of the earth'? Turn from your fierce wrath; change your mind and do not bring disaster on your people. Remember Abraham, Isaac, and Israel, your servants, how you swore to them by your own self, saying to them, 'I will multiply your descendants like the stars of heaven, and all this land that I have promised I will give to your descendants, and they shall inherit it forever.'" And the Lord changed his mind about the disaster that he planned to bring on his people. Exodus 11-14
Oh, Burn! (pun intended).
If this verse tells us one thing, it's that God, even Old Testament pre-Jesus God, had mercy. He never stays mad. He goes for a drive, gets a drink, watches the game, and then comes home ready for love. Plus, he knows that if he really goes over the edge one day, he loses. If there is a God, he's not interested in losing. Have you ever wondered what it would look like if he really tortured conscious souls for eternity? He'd literally become more cruel than any notion of Satan we've ever heard of. If you happen to believe in Satan, and if you even attribute every crappy thing that ever happened to his doing, none of it could ever compare to God creating a Hell. If Satan had a good 5 million years of chaotic fun with humanity, that would never come close to God's eternal reign of terror, confining countless souls to a fate much worse than death, with no chance of learning their lesson, with no chance of redemption, for crimes they may or may not have been aware of.
Honestly, if Hell is real then God should give every newborn baby a birthmark across their forehead that spells out "Hell is real. That's why I'm giving you this very clear birthmark because I'd be a big jerk if I didn't tell you directly. Sincerely, God, Your loving cosmic overlord."
IN CLOSING: Obviously these four reasons I have given are really four cans of worms I have opened up for you all to enjoy. I do not pretend to know what actually happens when we die, but my studies and sarcasm lead me to write on such topics for educational and entertainment purposes. If you're an Atheist, God bless you for reading this far. I find myself between agnosticism and pantheism, terms you should know if you want to know anything about me. Having grown up in a fundamentalist home (in the South), this discussion never stops. Hell is a topic that influences everything from who we vote for to how we talk to our parents at Thanksgiving. Hopefully this article has helped you smile a little more and fear the flaming abyss just a little less.
(all images from google.com/images)
Brett Gallaher is founder of weoccupyjesus.org, pretty much the best blog like ever. He resides in Chattanooga, Tennessee, the place they wrote that train song about. Once he shot a squirrel, but he felt really bad about it afterwards. Brett dreams of a world where atheists, theists, and everyone in-between can unite under common goals and principles to make the world a better place. When he's not changing the world, Brett also enjoys paying way too much for coffee. If you would like to join Brett's peaceful revolution, follow him to facebook.com/weoccupyjesus.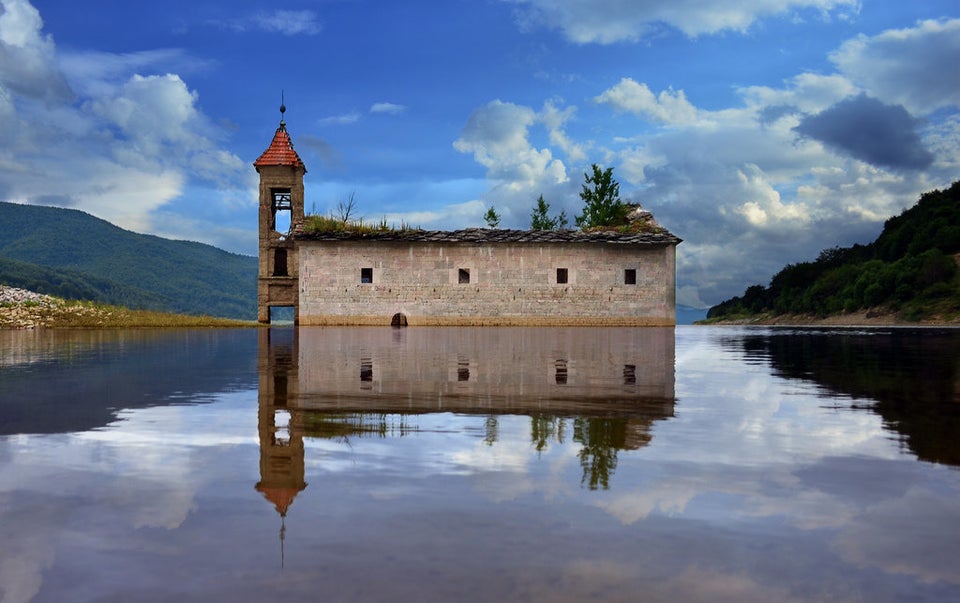 Abandoned Churches
Popular in the Community