Last week, there were several exciting announcements about increases to Everglades restoration funding. Gov. Rick Scott proposed a $130 million Everglades budget. Everglades National Park Superintendent Dan Kimball announced the federal government will match the state's funds for Tamiami Trail Bridge construction, the project that lifts up the far western edge of Miami's Calle Ocho to let water flow south to rehydrate Everglades National Park.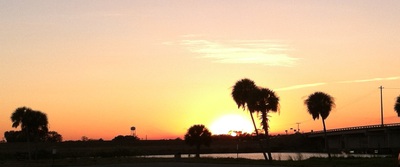 The average person listening to these announcements might wonder where we stand in the big picture of Everglades restoration. Have we made any progress? When will it all be finished?
Long-time Everglades warriors often remind me that restoration is a marathon, not a sprint. And they are right. Last century, as part of the Central and South Florida Flood Control Project, the federal government ditched and dredged wetlands from Orlando to Florida Bay, creating 128 miles of canals and hundreds of miles of levees to drain and redirect water from the landscape for human development. Restoration of this region, which covers an area of over 18,000 square miles -- an area larger than the square mileage of Vermont, Delaware and Connecticut combined -- will take decades. It is necessary for Southern Florida's water supplies, ecosystems and flood protection.
Fortunately, there are already clear indicators of progress. Here are four signs of early success across four corners of the Everglades:
North: The Kissimmee River Restoration project is almost done
Historically, the Kissimmee River wound across 103 miles of the Northern Everglades, supporting a thriving habitat for hundreds of species of birds and other wildlife. In the 1960s the federal government transformed this river into a 30-mile canal, creating a superhighway for water to drain south to Lake Okeechobee for flood control. Unfortunately, this decimated key wetland habitats in the process. A drop of water that once took around six months to flow from the top of the river to Lake Okeechobee now only took one month. In 1992, the federal and state of Florida embarked on a project known as Kissimmee River Restoration to restore the river's floodplain ecosystem, including tens of thousands of acres of wetlands and 44 miles of river channel.
Today, this project is now 85 percent complete, and there are already dramatic benefits. Species of birds absent from the floodplain for over 40 years have returned, and lost habitats have now re-emerged. Once fully operational, the project will add up to 100,000 acre feet of water storage to the system -- water that otherwise may need to be flushed to tide and cause harm to the Indian River Lagoon and Caloosahatchee Estuary. So, it is worthy of celebration that Gov. Scott made a commitment last week to fund the completion of Kissimmee River Restoration in his FY2015 budget announcement.
This photo courtesy of the United States Army Corps of Engineers shows a portion of the river before it was channelized and after it was restored. The blue box in the picture shows the result of restoration. In the place of a filled-in canal, the winding river has returned.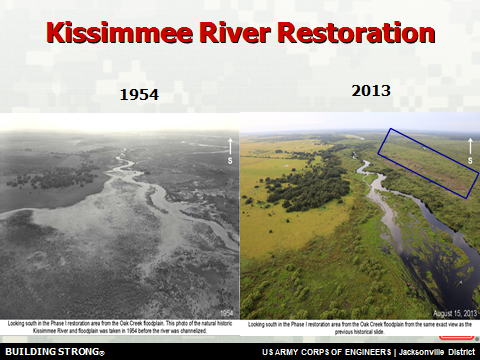 South: A major component of a Southern Everglades project is exceeding expectations after one year of operations
Last year, there was a ribbon-cutting ceremony for the C-111 Spreader Canal Western Project. This project redirects flows of water south to Everglades National Park and Florida Bay. While it is still preliminary, Audubon scientists have observed that the ecosystem's response seems to be exceeding expectations. The increased water flows are linked to an increased growth of underwater plants and less salt in the water, which in turn supports habitat for the tiny fish that Roseate Spoonbills love to eat. Audubon's short term goals for this project outlined in 2010 on the eve of the project's groundbreaking appear to be coming to fruition.
East: After decades of bitter litigation, there are concrete steps forward on Everglades water quality improvements
The Environmental Protection Agency and the state of Florida have been embroiled in litigation over Everglades water quality for decades. When pollution from too much phosphorus enters the Everglades and Loxahatchee National Wildlife Refuge, it alters the balance of life and disrupts wildlife habitat. The state of Florida is responsible for Everglades water quality improvement and dedicates a specific portion of the state Everglades budget annually to its clean-up in a plan known as the "Restoration Strategies Plan."
A few weeks ago, representatives from the state and federal government came together to break ground on the "A1-FEB Reservoir," the first project in the state's Restoration Strategies Plan to store and cleanse water before it flows into the Everglades. There is still much to be done, but the fact that the federal and state representatives are collaborating and making progress on solutions is worthy of celebration in its own right.
West: The "world's largest failed subdivision" now has Florida Panthers, Wood Storks and other wildlife as its residents
On the western edge of Big Cypress Reserve, the wetlands and uplands of Picayune Strand were logged in the 1940s and then ditched, drained and paved with miles of roads in the 1960s to become a subdivision nightmare known as Southern Golden Gate Estates. Tens of thousands of unsuspecting buyers bought pieces of land on this property, only to find out that they needed a boat, not a car, to get to their "home" in June.
In an amazing feat, the state of Florida bought back 17,000 individual pieces of land in a plan to restore the 55,000 acres of wetlands and uplands to their natural function. Sizable portions of this project are now complete, such as the Prairie Canal. Endangered Florida panthers and wood storks are already returning to the area as hydrology has been restored. The project also rehydrates nearby Fakahatchee Strand State Preserve.
Look at these before (left) and after (right) photos of the project, courtesy of the United States Army Corps of Engineers. Hard to believe this could have been a subdivision.
Restoration is a slog through a swamp of bureaucracy, a quagmire of stakeholders with different agendas, and a maze of economic and political constraints.
But it must be done. One in three Floridians rely on the Everglades for drinking water. The system must be re-plumbed to protect our urban areas from flooding and our treasured ecosystems from continued degradation. We are making headway and must keep trudging forward.
Funding must be made available to build, monitor and operate these crucial projects. Decision makers on the local, state and federal levels need to hear the public's vocal support to sustain the political will over the course of decades. Contact your elected officials to let them know you want a restored Everglades.
Calling all HuffPost superfans!
Sign up for membership to become a founding member and help shape HuffPost's next chapter