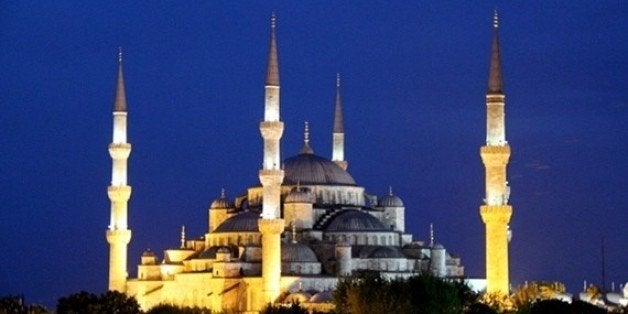 Get to Istanbul's Blue Mosque faster with these four tips.
Istanbul is an adventure. Pure and simple. The Blue Mosque, Hagia Sophia Cathedral, strolling around Sultanahmet Square, walking over the Galata Bridge and watching water traffic on the churning Bosphorus from a cafe on the Asian side. The city is a full-on, fantastic cultural assault that may bewilder but never, ever disappoint travelers. Make Istanbul travel-drama free with these important tips.
1: Visas. You better have one.
Zipping around Europe between Italy, France, Holland and etc., it's easy for Americans and other nationalities to forget many countries still require visas for entry. Turkey is one of them. Don't panic. You do not have to run out and find a Turkish Consulate or Embassy near your hometown. The Turkish government has created an excellent website to apply, pay for, and obtain your visa online in a matter of minutes.
This is the website for application. Go there. Get it done. Do not click on some shadow site promising to do it for you at an extra fee. There's no need. The whole official process could not be easier.
Visa costs vary depending on the country. Click here for a list of countries and the corresponding fee for both e-visa or emergency application on the spot. An e-visa for an American is $20.
Note that your travel documents (passport) must be valid for six months from the date of your visa application.
Remember to either print your visa once you receive it, or have it ready on your smart phone or digital device. My advice, keep a printout for back-up just in case. You will have to show it once to an officer before you even reach passport control, so keep it handy after you de-plane.
If you do forget, or your credit card refuses to go through, or you are reading this article in a departure lounge somewhere headed for Istanbul and now chanting, 'ohcrapohcrapohcrap', don't panic! The Turkish immigration authorities still maintain a little visa window by passport control. There you can line up (sometimes a long line...) with everyone else who screwed up.
Inside Hagia Sophia (Ayasofya Camii), which is slowly being restored. Photo courtesy Shu Nakada.
2: Arrival. So near and yet so far.
Scheduled an afternoon meeting an hour after your plane lands? Yeah, that is not happening. Even with your visa in hand, getting out of the airport is going to take awhile. Lines at passport control snake around a large hall like a summer visit to Big Thunder Mountain at Disneyland. The process can easily take an hour on a busy day. Allow some flexibility in your arrival schedule to compensate for this. Some days are better (or worse) than others but you won't know until you get there!
If a hotel shuttle is picking you up, don't worry, they know it takes forever.
Hint: There are actually two passport control areas at either end of the long arrival terminal corridor. Facing the exit area, customs control on the far right is often less crowded. If you're already on the far right and it's crowded, well, sucks for you. The one on the left will only be worse.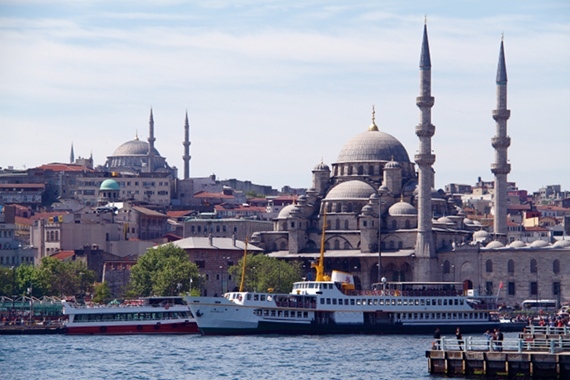 Get out of the airport and head for the Galata Bridge for views of the Grand Mosque and more over on the European side. Photo courtesy Shu Nakada.
3: Departure. Getting out is more difficult than getting in.
The last thing you want to think about right now is leaving amazing Istanbul, but keep your exit strategy in mind. Remember that congestion at Customs Control on your arrival? That's going to be doubled when you leave.
Security is tight at Istanbul's Ataturk Airport and given the neighbors, you can hardly blame them for that.
Before even entering the departure terminal, everyone, traveling or not, must go through a full security check -- baggage, take out your laptop, empty your pockets, walk-through detectors, the whole thing. Security keeps a number of lines open, but you can imagine the insanity as hundreds of travelers and their luggage, crying children and baby carriages, friends and family, constantly pour into the area jostling for place in a security line.
You must also go through passport control again before heading for one more security check and the gates. Like the arrival terminal, there are two passport control zones.
Hint: Facing passport control, check out the one on the far left of the concourse. It is generally only half as crowded as the other.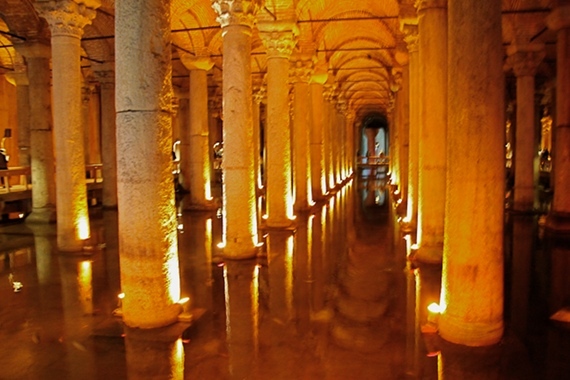 Get used to lines outside the airport as well. There's always a queue of people waiting at the beautiful Basilica Cistern (Yerebatan Sarnici). In fact there are lines everywhere after May 1st.
4: Istanbul Airport is expensive.
Istanbul itself is a great bargain. Prices are so, so low compared to the rest of euro-toting Europe. The airport, however, is a different story. All bargains are off after that last security check. Food and drink in the departure lounges is much more expensive than in town. I mean surprisingly so, even for standard airport mark-up. If you're hungry, have some extra cash in reserve because it's going to cost. Also, note the prices at duty-free and etc. are in euros, not Turkish lira. There's a big difference between 30 euros and 30 lira!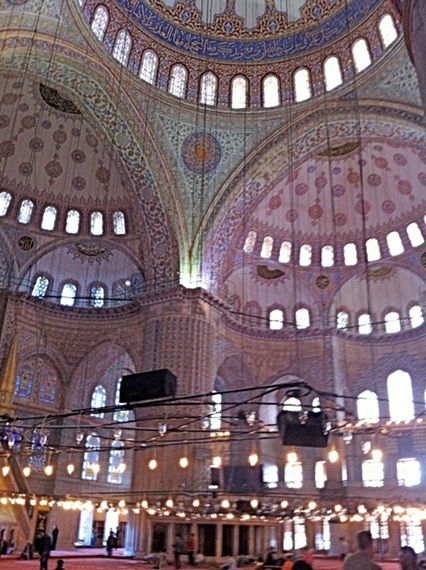 Inside the Blue Mosque (Sultanahmet Camii). One of the reasons leaving Istanbul is so difficult. Aside from the airport...
One more tip to keep in mind: The T-1Tram is your lifeline to all things Istanbul.
Once you finally get out of the airport, you are going to want to stay in Istanbul along this tram line. When booking your hotel, find one along the this line. The tram will take you everywhere you want to go: Sultanahmet for the Blue Mosque and Hagia Sofia, the Grand Bazaar, the Spice Bazaar, the Galata Bridge. Everywhere.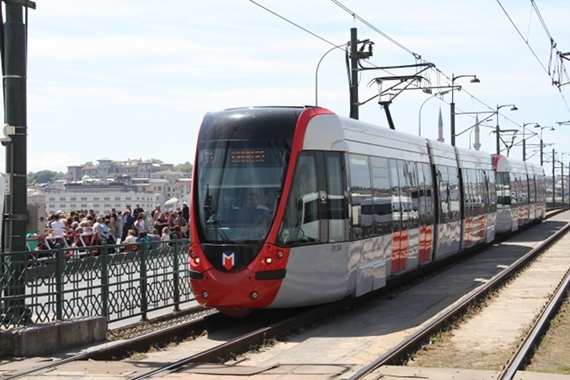 The T-1 tram line can take you everywhere you want to go in Istanbul. Photo courtesy Shu Nakada
All are walkable from one of this tram's stations. Buy tokens -- three lira each -- from the dispensers at the little kiosks to the side of each station. You can buy a bunch of them at a time. Absolutely avoid lining up for tokens at the Sultanahmet or Guilhane stations. They get crowded with tourists plus you have to watch out for tiny thieving hands trying to reach in and grab your token or change
If you love those open-top bus tours, the hop-on, hop-off ones, by all means go for it. Istanbul has several and you can buy tickets where they all gather at Sultanahmet Square. But honestly, the tram will take you everywhere that matters. Once you finally get out of the airport.