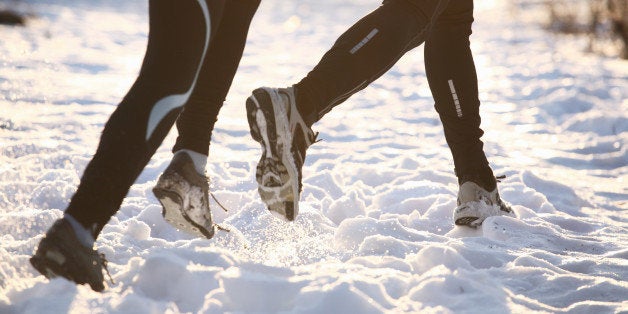 Throughout my running career, one of the hardest things for me to do was to keep motivated to train in the time between February and mid-April. While I was fortunate enough to have teammates and a coach to keep me going physically but mentally? I was already thinking of the sixty degree days and no wind chills.
Now that I'm attempting, for the first time in nearly a decade, to keep a consistent training plan of my own; I'm finding this time of the year to be particularly challenging.
Part of it has to do with the fact that 2015 is truly here. The New Year's resolution is starting to either become your new daily habit or your new guilt trip. If you are like me and are based in the Northeast, the new car smell of fresh snow is now a glacial white blanket of inconvenience.
One of the best things about the running community is the connections you can make. I know I'm not the only one suffering through these problems. So I decided it was time for an attitude change and try to spin this into a positive. Regardless of if you are a sub-elite trying to break into that next realm or the hobby jogger, these are the tips to stay active this winter.
1. Plan
The most important part of training on your own is planning. Take a few minutes each Sunday night to plan out the week ahead. It doesn't have to be completely set in stone, but having an outline on the week that is up ahead is an easy way to keep yourself motivated.
When you have a tangible time or distance in your mind, it keeps you honest. Instead of saying "I should probably get out the door," spin it and go "Alright, I have three miles today." I always believed having a daily regimen was critical to any training block.
What is also important is planning your days off. As I stated during the summer, you should always give yourself a day here and there to recover either mentally or physically. But if you improvise your schedule, you might find yourself taking too many days off and letting your aerobic foundation crumble.
When I know for sure I have a day off coming, it makes the days leading up to it a bit more manageable. Granted, there will be days that are out of your control but always be prepared.
Also, look at websites such as flotrack.org that offer personal running logs. Seeing your progression can become pretty effective in inspiring you to keep getting better.
2. Grab a Buddy
The appeal of running is that its an activity that you can do by yourself. All you need are your feet and the desire to get out the door!
As individual as running can be, there's nothing like running with a friend or group of people. You can grab the nearest friend, set up a time and go from there or even go check out your local running store and see if they offer any store runs through the community.
When we get older, it gets a bit more tougher to find people to play a game of three on three or a pickup game of any sport; but you'd be shocked how easy it is to find another runner. Maybe you can even convince your significant other or close friend that they should join you. Including yourself in another person's routine is almost like having a teammate with you at all times.
3. Sign Up For a Race
For this tip, I have to admit that this is not the best advice for me. I'm pretty stubborn and prideful to do this, but this is a legitimate piece of advice for other people who might become motivated as such.
Sign up for a race, it can be anything from a one-mile fun run to something longer (do not go past your means and sign up for an Ironman) that will be taking place down the line. For a lot of runners, the fear of being out of shape and wasting your money will be the kick in the pants that gets you out into the elements and preparing for that new personal record.
You can find local races with a quick internet search or again, go to your local running store and ask if they may have a calendar of some sort to show you what's going on in the community.
4. Acceptance
Okay this might be a bit of an off-kilter choice, but you know what a lot of people are guilty of (including myself)? Every winter season, we start running in the beginning of winter and are okay with it. It's cold, we have more layers on but otherwise we are comfortable if not exactly endorsing the conditions.
Then the "true winter" begins, with phrases like polar vortex and forced storm names appearing out of nowhere, and we act all surprised that "Hey, winter gets really cold and lousy?"
This is one of the simplest and the final step is realizing that the next month or so will be filled with a bunch of climate obstacles. There will be snow (though I know at least a few of you will be snowless), cold temperatures, icy roads, sleet, wind gusts, wind chills, cold rain and that one random day in February that is like sixty degrees.
Now, let's turn our attention to you. I'd love to hear how you keep yourself motivated. Do you splurge on new running gear to get outside? Do you believe in cross-training on the treadmill or elliptical? Let me know in the comment section below.
Popular in the Community