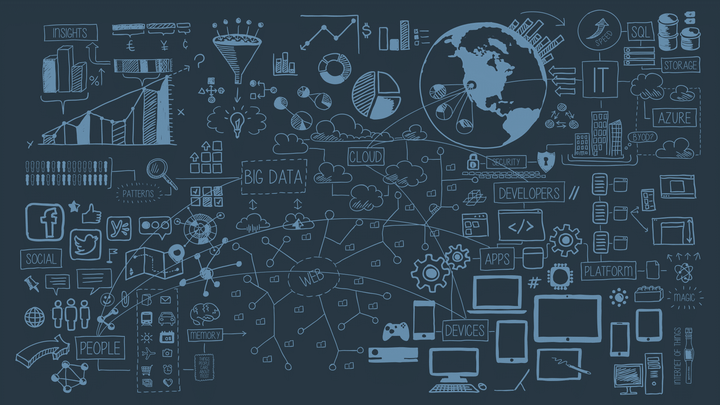 Today, we are inundated with ads everywhere we look, yet our attention spans are declining. Because of this, advertising is being forced to evolve once again—an evolution where advertising becomes more personalized and automated. In the coming year, advertisers will continue to double down on digital, increase personalized experiences online, utilize artificial intelligence to improve efficiency at scale, and unify messaging across channels. These four areas should be the focus of your ad dollars in 2017.
Digital advertising is thriving more than ever before.
We've been saying this for years, but this is going to be a big year for digital advertising, having recently outspent TV advertising for the first time ever. Digital ad revenue in the U.S. was up 19.1% in the first six months of 2016 over 2015's first six months and 2017 is already looking healthy. This may sound obvious, as digital remains one of the most efficient and trackable mediums.
Search is responsible for half of digital advertising revenue while social media advertising revenues have seen constant growth for years—likely due to the incredible advancements in targeting on Facebook's platform. However, Facebook is hinting that we will likely see this growth slow as inventory becomes an issue, forcing advertisers to become more and more efficient on this channel.
Native advertising will continue to expand its impact and online influencers will become more defined as a channel with increased trackability. Yet, this year's most exciting digital trend will likely be how immersion continues to evolve content marketing's capabilities.
Sharp digital advertisers are connecting the dots between digital channels by creating advertising campaigns that move the needle—targeting specific niche audiences instead of broader perceived audiences, limiting calls to action to focus on each consumer's specific user journey, and presenting an experience that nourishes the customer-to-brand relationship.
Personalization is the name of the game now.
There's a reason Forrester calls personalization "the new bar." Consumers don't just want personalized experiences these days; they expect them. Whether it's in the ads they see, their experiences with websites and landing pages, or how they shop–custom and unique are huge selling points.
In fact, according to one research study, 71% of consumers prefer their ads to be tailored to their interests and shopping habits. In that same revealing research, consumers noted the benefits of personalization.
Reduce irrelevant advertising
Are a way to discover new products
Make online searching and shopping faster and easier
Customers acknowledge that they're busier than ever. So they want ads to help them, not distract them, and they'll reward the brands that pay attention.
Artificial intelligence will help advertisers craft the most effective campaigns.
Managing advertising at scale, and adapting to increased costs and competition, means testing a significant amount of audiences, landing pages, and ad creatives. Humans alone can't possibly analyze the quintillion Bytes of data produced each day, let alone the thousands of creative + audience segments in an advertising campaign, to provide insights necessary to stay competitive in the market. Artificial intelligence (AI) can, however.
Through AI, we can analyze campaign metrics and user data to determine what works and what doesn't at a deeper level. This leads to test-proven campaigns and more attuned personalization. Additionally, by evaluating such data, we can train AI to suggest and test successful content.
Machines can also enable efficiency on the back-end for advertisers. Last year, at least 96% of advertisers used programmatic advertising, the process of utilizing software to purchase ad placement.
In 2017, we will see more and more brands taking advantage of artificial intelligence in their day-to-day campaign management.
Greater integration between offline and online media is a must.
Consumers don't like to see mix messaging. It either sends the wrong message or it doesn't resonate.
Although offline and online media may require different tactical strategies, they're no longer entirely separated by consumers. Instead, offline regularly leads to an online behavior in the same customer journey. When consumers see a commercial on TV or listen to a radio host endorsing a product, it should be a given that the same messaging is being delivered online.
Where offline media can drive interest and purchase intent, online media will drive conversion. Aligning these channels along the consumer's purchase journey is key. Digital, being the ultimate nurturer to offline, should align in messaging, offer, and creative to continue a seamless experience. But how does this scale? See the AI section.
The goal is for advertisers to create a cohesive transition from offline to online media. Offline catches the attention of customers while online can and should drive the selling points home. If the messaging proves disjointed, then it's not a deeper dive for the consumer. It's just starting over.
This year will see exciting opportunities to strengthen customer relationships and it's up to advertisers to deliver accordingly. By expanding the methods and capabilities of advertising, you can grow your brand while nurturing audience loyalty. You just have to spend your ad dollars wisely.