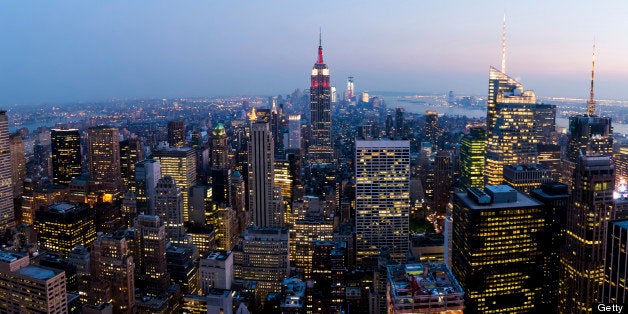 Whether you see the rapid growth of tech startups as a boom or a bubble, tech activity is higher than it's been since 2000 and has impacted the economies and landscapes of cities around the world. To meet the influx of tech companies and their needs, tech hubs like New York City are rapidly changing. Here are four ways that tech companies are affecting NYC's real estate landscape.
1. Increased competition, shrinking supply, and record high prices
According to CB Insights, capital is being injected into the New York tech scene at an astonishing pace as the average Series B financing jumped from $6 million in 2013 to $17 million this year. With more money, tech companies are making a bigger splash in the commercial real estate scene. In fact, the tech industry accounted 19 percent of all leasing activity in 2014--significantly more than previously expected.
In New York City's commercial real estate market, tech startups drive much of the new demand and now account for nearly half of all bids in neighborhoods like Flatiron, Chelsea, and Union Square. With the price per square foot on the rise, rent in these neighborhoods is up 80 percent compared to 10 years ago, surpassing the 2008 boom to hit an all-time high.
2. Growing popularity of bespoke office spaces

According to Crain's, the most important issue for HR professionals to focus on for 2015 is company culture and engagement, and one of the primary indicators of culture is the company's space. This holds especially true in the ultra-competitive tech industry, and as a result, tech companies are going to landlords with requests for non-traditional office space. They have unique needs and desire open floor plans, loft spaces with rooftops, and exposed brick walls. Landlords can now be found transforming their properties to cater to these new renters--knocking out walls, polishing concrete floors, and giving office spaces the popular open, industrial feel that has helped many leading tech startups attract talent and promote a collaborative atmosphere.
3. Bringing fresh perspectives to old neighborhoods
To get a glimpse into how the tech boom in New York has changed the city's foundation, we can take a look at the Garment District a decade ago and compare it to what it is now. Once bustling with garment manufacturers and fashion designers, technology and other creative companies have flocked into the neighborhood over the last few years because of its close proximity to a slew of transit options and relative value in rent prices. Another example is the iconic Flatiron District. It's always been a culturally relevant area, but in the last few years, it's become a haven for tech startups--so much so that people now refer to the area as the birthplace of "Silicon Alley". These newly revitalized up-and-coming neighborhoods are booming with new restaurants, bars, and retail stores to cater to the new tenants.
4. Creating "hot" residential neighborhoods
All of these tech folks have to live somewhere. While some can afford to live in popular, high-demand neighborhoods, many often move to surrounding, less developed areas in search of value and size. This influx of young, highly educated residents changes the landscape and demographics of a neighborhood, eventually creating new "hot spots" that bring a wave of complementary businesses and new development. Take Long Island City and Astoria for example. The number of residents with a college degree has risen 40 percent since 2008, according to the New York State Comptroller.
As with anything in life, the ripple effect of one change can greatly impact another previously unrelated sector, and tech is no different. As tech companies are funded and move into new cities and neighborhoods, the landscape of these areas adapts to welcome their new residents.
Calling all HuffPost superfans!
Sign up for membership to become a founding member and help shape HuffPost's next chapter