As a dog owner, I feel guilty leaving my hounds in their kennel for even a few hours.
Dogs belong with their human companions; curled up by the fire, lounging on the couch, chilling by the fridge hoping to snag a piece of dropped cheese.
That's why when I heard about Winston, my heart sank and I knew I just had to share his story.
Winston is an adorable 10-year-old American bulldog mix who has lived in a kennel for FOUR years. Yes, that's right, he has been in "the system" for years -- trying to find a family with no avail.
Why hasn't Winston, who was originally pulled out of a kill shelter in Philadelphia, found a home?
"He is very afraid of new people," says Sandy Moore, of Lindenwold, N.J., who runs the private boarding facility where Winston resides. "But once he warms up to you, you'll never find a more loyal dog."
Winston warms up more quickly to women, needs a home with no other dogs, and has elbow dysplasia -- all factors that have added difficulty in placing him.
"When you put it all together with his age it's not a good mix for adoption," Moore said.
Yet, she is not giving up. She knows there is the perfect home out there for the dog she calls "a good boy" and a "big mush."
Moore, who cannot take Winston herself because she owns other dogs, will even pay his veterinary bills for the remainder of his life if the right home comes along.
I know there is a perfect home out there for Winston too! This sweet boy deserves to live out the rest of his life in a home.
If you know where this perfect home for Winston is visit his Facebook page here to get in touch with Moore.
Moore warns that Winston is not available for transport and that any potential owners will need to meet with him about four times before adopting (therefore they should be "local" to Lindenwold, New Jersey or open to driving there several times)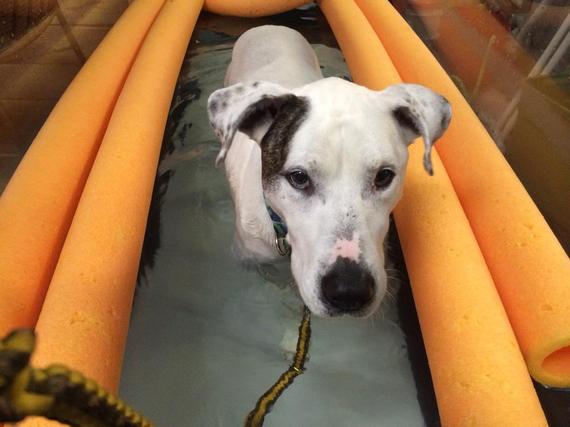 Winston enjoying water therapy for his elbow dysplasia/Provided by Sandy Moore
REAL LIFE. REAL NEWS. REAL VOICES.
Help us tell more of the stories that matter from voices that too often remain unheard.