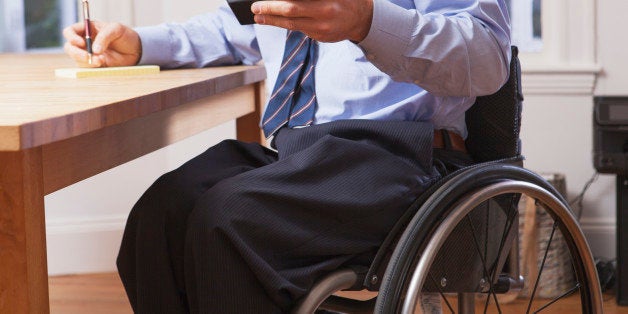 This Thanksgiving weekend marked the fourth anniversary of my near-death accident when an out-of-control SUV with a sleeping driver barreled into my bicycle. I was an experienced cyclist taking all possible precautions -- I was wearing a helmet and bright clothing, obeying traffic laws, and riding on the right shoulder of a sparsely-travelled country road. It was at 1:06 p.m. on a Saturday afternoon everything changed in a split second.
I think about that moment in time every day. For the first two years after the accident, I kept asking, "Why me? Why me?" I hadn't done anything to cause the accident that crushed my spine and left me a paraplegic. People said to me, "Thank God you survived. You are lucky to be alive!" But I didn't feel lucky at all; anything but. This wasn't the life I had worked so hard to build nor the life that I wanted.
But these last two years have been different. I can't say I've accepted my lot with a sense of joie de vivre but I do accept that I need to make the best of it and live the life that's been handed to me. What has changed? Well, there is no one catalyst for my attitude change. More than anything it was my family. My wife, with the help of my daughters, had sacrificed everything to bring me back to health and I couldn't let any of them down. The girls were coming into their own as young adults while I was sitting still. I needed to re-engage as a father to be an important part of their lives.
Furthermore, having been thrown into the world of the disabled, I'm considerably more aware of how people address challenges. So much of what happens in life is so random. Not just my one-in-a-million encounter with a runaway SUV, but young friends of mine who are on dialysis or facing potentially terminal cancer diagnoses or living with early onset Alzheimer's.
I started to notice and have been continually impressed by people quietly moving on with serious medical conditions such as spinal cord injuries. So much is made of celebrities like Christopher Reeve or Michael J. Fox, who have increased awareness of their conditions with grace and dignity. But equally as impressive are the people you don't know who quietly thrive by overcoming physical challenges to have a career, support a family, and live a life without rancor. I have so much respect for so many of the people I've had the fortune of encountering these past four years.
My life has been irrevocably changed by the irresponsibility of a driver who refused to pull over when she knew she was uncontrollably drowsy -- and that stays with me every day. Still, unlike four years ago, I no longer feel there is no future. I obsess less about my disability, I connect better with my daughters and my friends and family, and I actually find myself motivated by my wife's prodding to make lemonade.
With our new startup, LeanOnWe, we are helping families hire experienced private caregivers in a new business model that also offers help with back-up, fill-in, and replacement aides at a considerably lower cost than using an agency. Finding a purpose has re-energized me, and I know that I'm making a difference because LeanOnWe helps families choose their own home care aide less expensively and without a middleman taking a cut of what the caregiver earns. I have no doubt that LeanOnWe is worthy and much-needed, but I also know that as a CEO of new company, I have the ability to demonstrate that those with disabilities have much to contribute -- and that makes a big difference as well.
Related