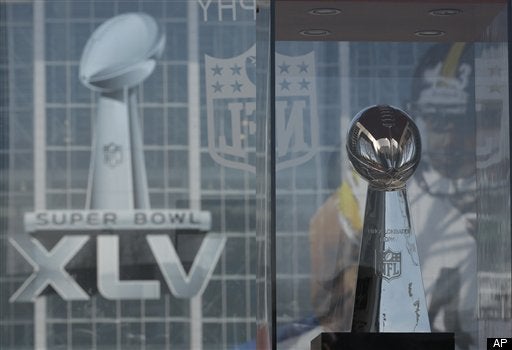 Foursquare's Super Bowl Sunday experiment is underway and the check-ins are coming in fast.
Approximately 30 minutes before kickoff, the geo-based social networking service had received more than 30,000 check-ins for "Super Bowl Sunday." It encouraged users to shout "Go Packers!" or "Go Steelers!" along with the check-in to receive a special team badge.
UPDATE (6:40 p.m. ET): The venue passed 40,000 check-ins at kickoff. (7 p.m. ET): It's now passed 60,000 check-ins. (8:40 p.m. ET): 115,000 check-ins. (9:30 p.m. ET): 150,000. (10 p.m. ET): At the game's conclusion, the venue hit 180,000 check-ins. (11 p.m. ET): People are still checking in and there are now 200,000 check-ins.
It's one of the first times Foursquare has experimented with nationwide check-ins. Typically, the service is restricted to venues by geography.
TechCrunch reports that Foursquare is testing Super Bowl Sunday as a "promoted venue" with the NFL, though it's just a trial and not a paid sponsorship.
Will Super Bowl Sunday become the most checked-in "venue" of all time? It has its work cut out for it, as the San Francisco International Airport has 199,000 check-ins. But it's certainly possible.
Have you checked in yet? Find the Super Bowl Sunday Foursquare page here.
Popular in the Community