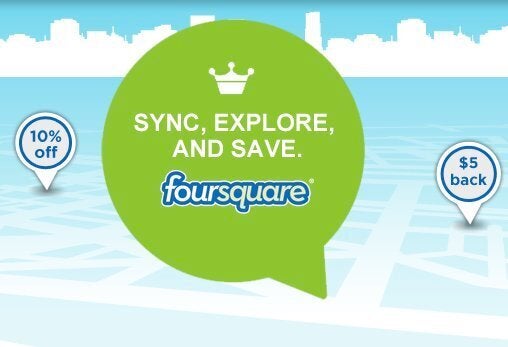 Foursquare has inked a deal with American Express that marks a major victory for the social media startup's efforts to become more mainstream and take on rival services from giants like Google, Facebook and Groupon.
Under the terms of the partnership, American Express cardholders that "check in" to certain businesses using Foursquare, a location-based service that allows users to share their locations and earn rewards for their patronage, will be able to redeem deals and receive credits when they shop, purchase meals and more.
At launch, American Express will be offering discounts at Sports Authority (customers can get $20 back on purchases of $50), H&M ($10 back when customers spend $75), and restaurants owned by the Union Square Hospitality Group, including Blue Smoke, The Modern, Unititled and Union Square Cafe in New York City.
An American Express spokesperson told The Huffington Post that the company plans to expand the program and offer cash credits at more retailers, large and small, nationwide.
"We want to expand across the merchant spectrum," said Luke Gebb, American Express' vice president of global network marketing. "We of course will be bringing on more large merchants of H&M's ilk, but we will also soon be launching a tool that allows small merchants to come to the system and input offers."
Gebb also noted that while the plan requires users to link their credit cards with their Foursquare accounts, American Express will not be receiving any location data from Foursquare, though it will know when a user has checked in at a participating retailer and redeemed the American Express deal.
According to the New York Times' Jenna Wortham, Foursquare "will not be receiving any revenue from the American Express deal" and maintains that the partnership is a strategic play to help secure other deals, attract more users and, in Wortham's words, to "legitimize the company's approach."
Foursquare has been more focused on building up its base of users and merchants than on revenue, and the company still has a long way to go in growing its membership and fending off an increasing number of rivals all eager to tap into location-based deals services that marry money from local businesses with powerful user data and real-time rewards.
Though Foursquare recently boasted that it had reached 10 million users (the number of active members has not been released), a recent Pew study found that just 4 percent of adults online used location-based services, with an average of 1 percent of this population using them each day.
Popular in the Community