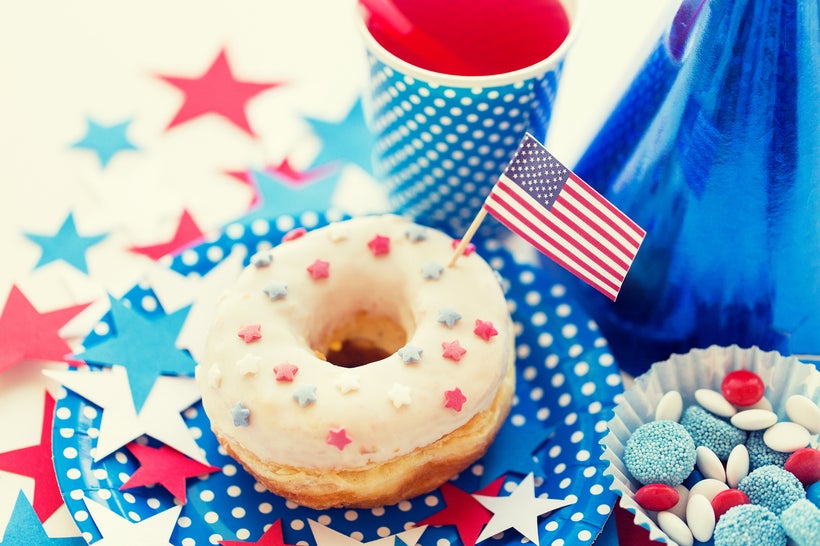 July 4th is the day the Declaration of Independence was formally adopted and the United States declared itself independent from British rule.
As the holiday marking the start of our country, it's truly an occasion to celebrate! In fact, founding father John Adams believed the day should be celebrated "as a great anniversary festival… with pomp and parade, with shows, games, sports, guns, bells, bonfires and illuminations from one end of this continent to the other from this time forward forever more."
There's still time to create a fun, memorable celebration to enjoy the day with family and friends. Here are nine easy tips to honor Independence Day traditions, or make a few new ones.
Summer nights were made for gazing up at the stars. Set up an easy outdoor drink station by putting bottled drinks in a festive plastic or metal tub filled with ice. Get a battery-powered light-up flying disc to toss around in the dark while you wait for the fireworks to start. String up white lights in the backyard for a festive touch. Make a playlist of American-themed music to set the mood; a few inspiring choices include Ray Charles' version of the "America the Beautiful"; "Proud to be an American" by Lee Greenwood; Whitney Houston's rendition of "Star Spangled Banner"; and "Firework" by Katy Perry.
Watch the Rockets' Red Glare
If you are going to a park or other venue to take in a fireworks display, the right gear will enhance the experience. Pack up a cooler with waters, drinks, and easy snacks, and take some folding chairs and a picnic blanket to spread on the ground. Bring a light jacket or blankets to ward off evening chills and enjoy the show in comfort. Red, white and blue glow jewelry makes it extra special as the skies darken and you wait for the show to begin.
It's easy to carry out the Independence Day theme by going with a patriotic color scheme for the food, drinks, and décor. Tablecloths, napkins, cups and plates add to the fun when they're red, white and blue. Create simple centerpieces with fresh cut flowers in mason jars tied with red, white or blue ribbons. Make easy, fun décor by filling glass jars or bowls with candy in patriotic colors. Drop a few fresh or frozen blueberries and raspberries in a flute of champagne.
If time is short, the menu doesn't need to be complicated. Start with the basics, such as burgers, fresh corn on the cob, and big juicy slices of watermelon. From there, keep it simple or make it as fancy as you'd like with creative toppings (for example, caramelized onions, feta cheese, avocado slices or spicy seasoned salt for the corn).
Fresh blueberries, strawberries and diced pound cake can serve as the basis for a pretty flag-themed fruit tray or the topping for a rectangular cake. Nothing says summer like a berry dessert, and what's more American than apple pie? Or have a red, white and blue sundae bar and let guests top vanilla ice cream with colorful berries, crumbled vanilla wafers, strawberry topping, red, white and blue sprinkles and whipped cream.
Show your patriotic pride wearing versions of anything red, white and blue. However, please dress respectfully. Many regard clothing that appears to be made from the flag such as shorts, swimsuits, flip flops, etc., as bad form. Of course, most people wearing patriotic garments have no ill intent, but be prudent when displaying your patriotism. Never use the flag itself as a cape or covering.
Follow a few simple tips for flag etiquette to make sure you are showing proper respect for this symbol of the United States.
On a final note, here are two more important tips to make sure your holiday celebration ends on a happy note:
Do-it-yourself fireworks can be fun, but make safety a priority. According to the U.S. Consumer Product Safety Commission, an average of 250 people go to the emergency room each day with fireworks-related injuries in the month around July 4th. Even sparklers, commonly thought of as fun and harmless, burn at 2,000 degrees – as hot as a blowtorch, which means they are not suitable for children.
While fireworks can be fun for people, they can be scary for furry friends. Leave pets at home in a quiet, confined area or a crate with a familiar toy where they can't escape. As an added precaution, make sure the contact information on their collars is up to date in case they panic and manage to run away from your home or yard.
Enjoy your celebration and happy July 4th!
REAL LIFE. REAL NEWS. REAL VOICES.
Help us tell more of the stories that matter from voices that too often remain unheard.
This post was published on the now-closed HuffPost Contributor platform. Contributors control their own work and posted freely to our site. If you need to flag this entry as abusive,
send us an email
.