Every year, the U.S. holds special citizenship-induction ceremonies on or around the Fourth of July. This year, nearly 15,000 people were being sworn in as U.S. citizens at more than 65 such gatherings across the country, according to U.S. Citizenship and Immigration Services.
They took the oath of citizenship in public libraries, national parks and museums. Some of the ceremonies were on aircraft carriers or baseball fields. One was at Monticello, the Virginia home of founding father Thomas Jefferson. 
At one of those ceremonies, Sen. Kamala Harris (D-Calif.) ― the daughter of immigrants from India and Jamaica ― took not-so-veiled jabs at President Donald Trump, who has called for limits on legal immigration along with his effort to ramp up deportation of undocumented immigrants. 
"Whenever you feel that future is threatened, whenever those values of liberty and justice for all that drew us here seem under assault, you need to speak up and speak out," Harris said at a ceremony on the battleship Iowa in the Port of Los Angeles on Monday, according to prepared remarks. "That's the whole point of the freedoms we cherish."
In order to become a citizen, immigrants must be a permanent resident, or green card-holder, for at least five years in most cases or three years if naturalizing through marriage; read, write and speak English; and pass a citizenship test. That test isn't easy ― check out some of the questions ― but more than 97 percent of would-be citizens pass, compared to only about two-thirds of voting age Americans, according to a 2012 study. 
Here are photos from some of citizenship ceremonies across the country leading up to and on the Fourth of July. 
Charlottesville, Virginia, at Thomas Jefferson's Monticello - July 4
Pawtucket, Rhode Island, at McCoy Baseball Stadium - July 3
New Orleans, at the National World War II Museum - July 3
Southport, North Carolina, at the Historic Garrison House at Fort Johnston - July 3
Los Angeles, on the USS Iowa - July 3
Monterey, California, at California State University at Monterey Bay - July 3
Alameda, California, on the USS Hornet - July 3
San Diego, on the USS Midway - July 3
Hialeah, Florida, at the USCIS Hialeah Field Office - July 3
Indianapolis, at the Benjamin Harrison Presidential Site - July 3
New York, at the New York Public Library - June 30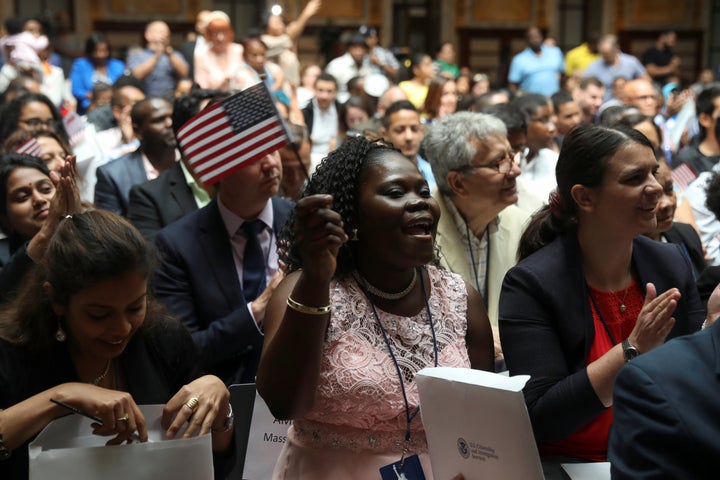 Tampa, Florida, at Hillsborough Community College - June 30
Dallas, at the Belo Mansion and Pavilion - June 29
CLARIFICATION: This article has been updated to clarify that immigrants can naturalize in three years if doing so through an American spouse.
Calling all HuffPost superfans!
Sign up for membership to become a founding member and help shape HuffPost's next chapter
BEFORE YOU GO
PHOTO GALLERY
Children Become U.S. Citizens