I know we're all in agreement that the 4th of July falling on a Wednesday just isn't the ideal scenario we had in mind. Let me paint a picture of what that ideal scenario would look like: a backdrop of a beach, lake, or fantastic backyard, surrounded by friends and family, delicious summer cocktails, mini appetizers, summertime playlists blasting in the background, outfitting pieces from your new summer wardrobe, feeling beyond content, and all of this taking place on the day your long weekend begins.
So much for that (well, the last part of that).
Folks, 4th of July may be on a Wednesday, and you may have to go to work the next day, and you may not be able to take that vacation you've been wanting to take, BUT you can still dress in style, feel fabulous, and have a really great holiday.
With this favorite summertime holiday being only a mere couple weeks away, its time to start thinking of that perfect outfit for the party you will be attending or throwing. While it can be nice and festive to wear patriotic colors, it's not mandatory. I do believe throwing a touch of red and white, a hint of blue, or a dash of all three colors into your ensemble is an appropriate and great idea. After all, it's the one time of the year you can dress like an American flag and not feel like you're wearing a Halloween costume.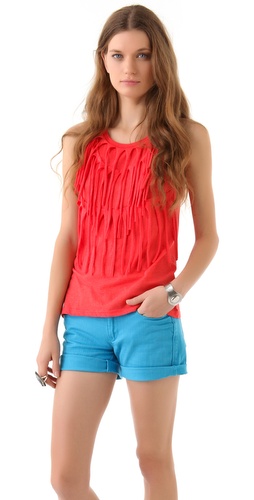 Tank -- Sauce
Let's talk summer dresses. Short, hi-lo, mid, maxi; they all work. You don't want to wear a tight dress. Not only will you be uncomfortable when you're lounging around outside and possibly diving into a volleyball game of some sort, you will look out of place. Tight is great for a night out with friends, a hot date, a nighttime event, but not a summer holiday party. Choose something looser fitting, in a lightweight fabric (and with no sleeves or funky straps, as to avoid awkward tan lines). Cotton yes, spandex no. Satin is also not a great idea, as it will show sweat marks, and nobody wants to see that.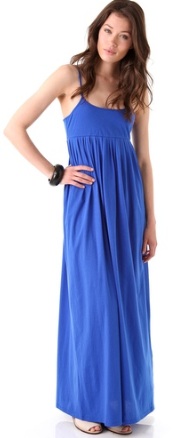 Maxi Dress -- DKNY
Opt for white or color, color, color. If you're going to rock white, this is the time of year to do it. And if you're not comfortable in white, go for color. Do not, and I repeat do not, show up in a black dress. Pastels, bold colors, or go for the red, white, and blue trio.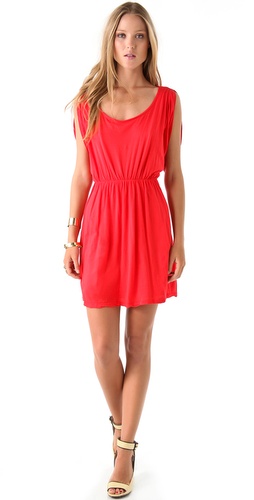 Red Dress -- Velvet
If you want to add a belt to your dress, make sure it fits comfortably on your body. You do not want to worry about adjusting a belt or making sure it's covering the right part of the tummy every 10 minutes.
Shorts are another great option for an outdoor summer holiday soiree. Again, make sure they aren't too fitted or you will be uncomfortable the entire time. Jean shorts, colored shorts, white shorts, even black -- any work in this situation. If choosing black or a dark color, make sure to brighten up your top half with a colored blouse or tank.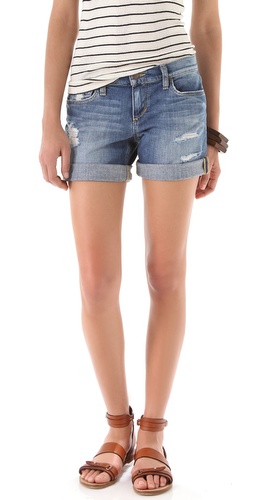 Shorts -- Joe's Jeans
My favorite option would be a romper. I'm a huge fan and I think they are adorable, comfortable, and a no brainer. Only issue is if you have to go to the bathroom a lot after downing glasses and glasses of sangria, it may become annoying. However, it's worth it. If you're not sure how you feel about the whole romper situation, this is the time to try it. It's summer time at a casual outdoor party. Be a little daring and throw one on.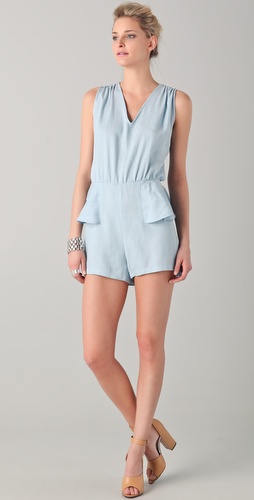 Romper -- Porter Grey
Pants are a no-no. Enough said.
Shoes and accessories are extremely important. When are they not extremely important? Stilettos are a big fat NO. If you absolutely refuse to do flats, then you must go for a wedge. If you don't do a wedge, any other heel will either get stuck in the grass or just look inappropriate for this outdoor fest. Wedges or strappy sandals are great. Any strappy sandal can do the trick. Wear a cute embellished pair. Just make sure they are comfortable and test them out prior! You don't want to have a foot full of blisters at the end of the night.
Layer on the jewels: long necklaces on top of one another, some fabulous bangles, and maybe a ring or two. Depending on what your day will consist of, overloading on jewelry may not be in your best interest. However, if it's a day full of drinking and eating -- jewel it up. If swimming and other active sports are in the cards -- lay low on the jewels, or make sure they are easy to take off when participating in said activities. Hats are also a great way to spruce up your outfit.
Whatever you do, enjoy the day. Don't worry about the fact that you have to go into the office the next morning. Have fun while looking fabulous, and make sure to drink water, with a side of Advil, before bed that night. Here's to the 4th!