"And the rockets' red glare, the bombs bursting in ..." Ursa Major?!
Just in time for Independence Day, astronomers released an image of a dazzling "fireworks display" full of reds, whites and blues -- some 82 million light years from Earth. 
Here's a look at the celestial marvel: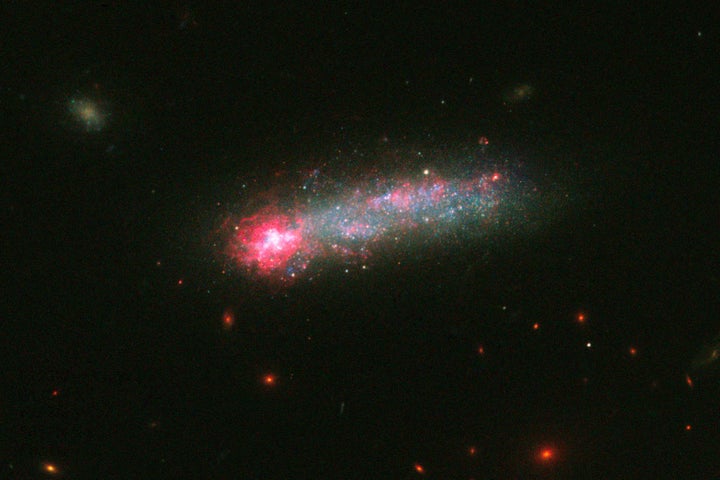 NASA's Hubble Space Telescope spotted the spectacle, which is actually a dwarf galaxy named Kiso 5639. It "resembles a July 4th skyrocket," complete with a "brilliant blazing head and a long, star-studded tail," NASA said in a release.
Kiso 5639 is also known as a "tadpole" galaxy, a reference to its elongated shape. Such galaxies are common at far-off distances, but Kiso 5639 is a rare, (relatively) nearby example, according to NASA.
Debra Elmegreen, an astronomer at Vassar College who conducted detailed imaging of the galaxy, described it as a "beautiful, up-close example of what must have been common long ago."
"The current thinking is that galaxies in the early universe grow from accreting gas from the surrounding neighborhood," she said in a statement. "It's a stage that galaxies, including our Milky Way, must go through as they are growing up."
And you thought sparklers were cool.
Calling all HuffPost superfans!
Sign up for membership to become a founding member and help shape HuffPost's next chapter
BEFORE YOU GO
PHOTO GALLERY
25 Gorgeous Images Captured By Hubble