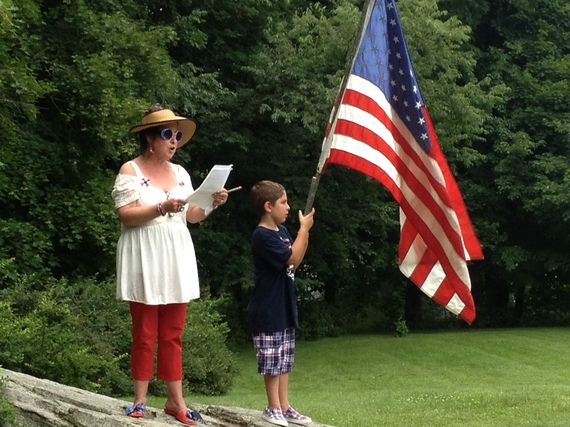 Independence Day. Ideals. Parades and fireworks. Big ideas counterpointed against ceremony and celebration. On July 4, I suspend my worries about our country. I dive into nostalgia, grateful for immersion in traditions free of cynicism, free of the complexity of close analysis.
July 4, 1964. Arrayed in Colonial garb, complete with a plastic up-do, I am Martha Washington. My brother, in knickers and tricornered felt hat, is husband George, Father of our Country. And resplendent in green sheets and a pointy headdress, my sister is the Statue of Liberty! The wig is hot, but I am proud.
Everyone loves a parade. Our annual 4th of July P-RADE in Eagles Mere, PA, is a love letter, a tribute to the generational power of this particular community. Our family has spent summers in Eagles Mere since 1912; the house I grew up in is the same house my mother grew up in; Eagles Mere is a part of us.
The 4th marks the official summer threshold; it's not the length of time our town spends together that matters. It's that we do it. Every year. We pause to take a breath together. Squinting into the sun, we reflect on citizenship and duty, wrestling with what it means, in these polarized times, to be patriotic, to be American. We meditate, too, on the meaning that this small town, nestled in the Allegheny Mountains, holds for us.
Johnnie Voorhees, a British war bride, established the parade to thank the American soldiers who helped win WWII. Gathering in the backyard of her home, Altamont, became a tradition. Johnnie, an actress trained at the Royal Academy of Dramatic Arts, had a passion for ceremony, and what she started, the town has kept alive, assisted by many, including our mother, who always provided a flag, complete with child to hold it and the admonition not to let it touch the ground. My mother was a stickler for flag etiquette.
Stars and stripes line the sidewalks, are tucked into planters, festoon sunhats and bike helmets. At Self Help Lodge, the house where we grew up, the largest flag flying from the porch is the one that came home in 1944 from Anzio, where my mother lost her brother, Jimmy. With only 48 stars, it is a symbol of our family's connection to the responsibilities and privileges of freedom.
At 11:00 a.m., families migrate to the DeWire Center parking lot to adorn bikes and selves with red, white and blue crepe paper. New babies, born over the winter, far away from Sullivan County, are proudly introduced to admirers. We look for those we've missed all winter. Though we lend masking tape, it is tradition that binds us.
Eventually, corralled by volunteers, a loose formation emerges. Past parades have featured jugglers, floats, antique cars, a kazoo marching band, a fife and drum corps, and, famously, Mrs. Valentine on top of a station wagon. Some years, dachshunds make up their own flotilla. There is the man on the enormous old-fashioned bicycle, first teetering, then sailing smoothly.
Our Eagles Mere fire and rescue vehicles are the real stars -- gleaming and official, they add to the solemnity. Our volunteer fire department is exceptional. In a village that favors shingle and clapboard architecture, their expertise matters. Children clamber up onto the Ugly Duckling -- the name bestowed on one of the oldest engines -- and gleefully toss candy to the multitudes. Crepe paper-wrapped bikes and scooters careen down the hill into the center of town.
July 4, 1994. My husband and I wrangle our summer theatre program's twenty students. "You're a grand old flag," we sing, strutting down Eagles Mere Avenue, swinging into "This Land is My Land." We pass my mother, grinning from a red, white and blue fold-up chair on the sidewalk. She is sporting an elephant cap, cheering as we pass, singing along with "Yankee Doodle." What is a parade without a route lined with lawn chairs and jubilant spectators?
As parades go, it's quick. No more than ten minutes. Then, we gather in the back lawn at Altamont, with a spectacular view of the lake. Those who require shade perch on the low stone wall or on the porch; the hardier sprawl on the grass. A big glacial rock lifts up in the yard; there, I, an emcee of sorts, chosen, no doubt, because I could project, join a member of the clergy.
July 4, 2004. My mother is incredulous that I, nine months pregnant, intend to lumber across the street to read the Declaration of Independence. To appear in public in this state is, in her mind, unseemly. "Mom," I protest. "They asked. Of course, I'll be there." Our son, thankfully, waits another eight days before being born.
After a welcome and thanks, the officiating minister offers a prayer. We recite the Pledge of Allegiance, sing a patriotic song. Next, I offer some trivia about the Revolutionary War or read an excerpt from Jefferson or Lincoln, men who wrote elegantly and meant what they said. Finally, lemonade and cookies.
It's a short gathering -- if the weather is good, we are all thinking about the lake and lunch and picnics. Summer is launched, another season is underway.
July 2, 2014. In the days leading up to the 4th, I am waiting for inspiration. Often, a conversation in the kitchen with my husband and my cousin, Jacques, sparks a direction. I know the words will come. My red, white, and blue ensemble is ready. Our almost ten-year old son is poised to hold the flag again, a tiring duty he knows he is expected to perform. Secretly, I think he's proud.
"Someone in our family always holds the flag, Mom," he says. Indeed.
Our town will gather on Friday -- big ideals counterpointed against ceremony and celebration. Absolutes fade as we age, but in this moment, we honor worthy concepts: independence, privilege, responsibility. There is power in constancy, power in pausing.
Earlier on Huff/Post50:
PHOTO GALLERY
Life Lessons From Huff/Post50 Readers
REAL LIFE. REAL NEWS. REAL VOICES.
Help us tell more of the stories that matter from voices that too often remain unheard.