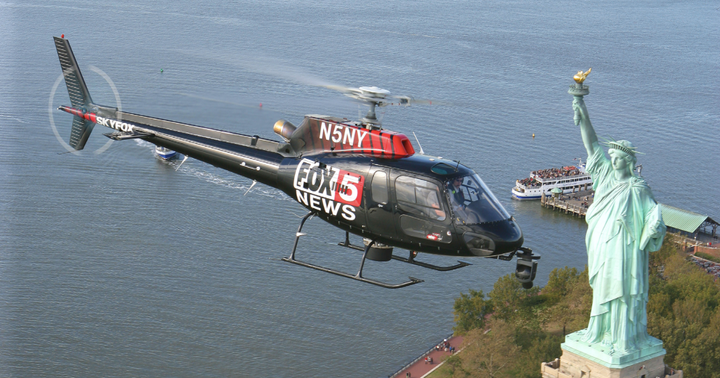 For over an hour on Wednesday morning, a local news helicopter hovered above a New York City bridge, its camera aimed at a man hanging off the side and threatening to jump.
Fox 5 broadcast the scene live on its Facebook page as police tried to talk the man down. At least 60,000 people watched, sending thumbs-up and laughing emojis streaming across the bottom of the video; some commenters suggested the man should just go ahead and jump.
He didn't. The man voluntarily climbed back onto the bridge and was taken into police custody hours after Fox 5 ended its livestream, according to several local media reports.

The video has since been removed from Facebook, but suicide prevention experts have expressed concern over the news organization's decision to broadcast from the bridge in the first place. Dozens of academic studies have linked this type of news coverage to an increase in the likelihood of suicide attempts by vulnerable individuals.
Fox 5 did not respond to requests for comment. A spokeswoman for Facebook declined to comment specifically on the Fox 5 livestream.
First, she said, it's insensitive.
"Even though it's a public event, it's still a very personal event to the person involved and to their families," she said, adding that footage of a suicide attempt "can be very upsetting and stigmatizing."
Second, she said people who have experienced suicidal ideation in the past could be "retraumatized" by watching Fox 5's video, potentially triggering suicidal behavior.
And finally, Harkavy-Friedman said: "We worry about contagion and copycat behavior." A substantial body of evidence shows that sensationalized media coverage can lead to both people mimicking a particular suicide and an increase in the actual suicide rate.
"I would not recommend that media share any live-streaming, let alone reposting or replaying of a suicide attempt."
Dan Reidenberg, executive director at the suicide prevention group SAVE.org, agreed.
"I would not recommend that media share any live-streaming, let alone reposting or replaying of a suicide attempt," he said, adding that "whether there's a save or not, we don't want news stations broadcasting those things."
There was "no good reason" for Fox 5 to broadcast the scene from the bridge Wednesday, Reidenberg said.
The Associated Press updated its style guide ― used by journalists worldwide ― in 2015 to include direction on how to cover suicide.
"Generally, AP does not cover suicides or suicide attempts, unless the person involved is a well-known figure or the circumstances are particularly unusual or publicly disruptive," the style guide reads. "Suicide stories, when written, should not go into detail on methods used."
The AP also collaborated with multiple suicide prevention organizations in 2016 to develop a report on coverage of suicide.
"Risk of additional suicides increases when the story explicitly describes the suicide method, uses dramatic/graphic headlines or images, and repeated/extensive coverage sensationalizes or glamorizes a death," the report warns.
The report also suggests including resources for help. About halfway through its livestream Wednesday, Fox 5 pinned a comment to its Facebook video that included the number of a suicide hotline.
Popular in the Community