In the age of "FAKE NEWS," it can be difficult to know whom to trust and what to believe. To get the real story surrounding Monday's biggest news story — the federal charges against former Donald Trump campaign staffers Paul Manafort and Richard Gates — we decided to watch two straight hours of "Fox & Friends," the fair-and-balanced Fox News morning show hosted by Steve Doocy, Ainsley Earhardt and Brian Kilmeade, three decent Americans simply searching for truth.
Here's our running diary.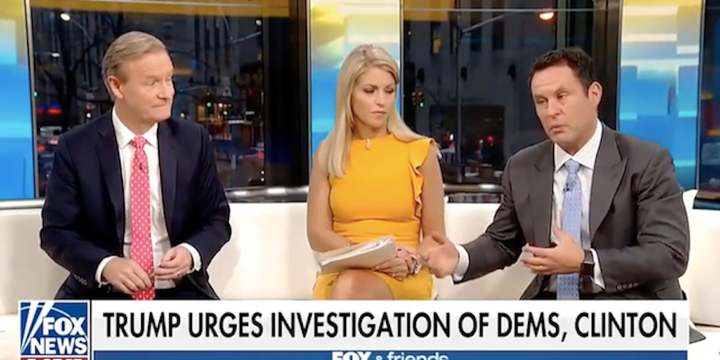 7:02 a.m. EDT: OK, it seems like this indictment thing might be a big deal. Doocy called the potential indictments their "top story," and Fox News correspondent Griff Jenkins said that the network has "teams all over this town [Washington] to see what happens."
But wait, Doocy says: There's some important context missing from the other networks' coverage. Is it possible this is all part of a giant Democratic conspiracy to ruin Trump?
"Keep in mind: This all got started after Hillary Clinton lost," Doocy says, "and there's a new Ed Klein book that's coming out. Ed's going to be on the show tomorrow. Essentially what he says is around Christmas time, [then-President] Barack Obama and some of his top lieutenants figured out, 'OK, this is how we are going to destroy the presidency of Donald Trump.'"
7:05: Kilmeade suddenly seems extremely angry. Apparently the biggest story in the country has nothing to do with the day's potential indictments, but with the corrupt Democratic Party. Here are some key terms to remember now: Fusion GPS, Uranium One, Hillary Clinton, dossier.
7:06: According to Kilmeade, the media is missing the big story surrounding the indictments. "The president has a different view on this, maybe you do too," he say to his audience. "The big story is how do you even get this information."
Or, as this giant three-word question puts it:
7:07: We are currently reading the president's tweets, and now Doocy is getting pretty riled up, too.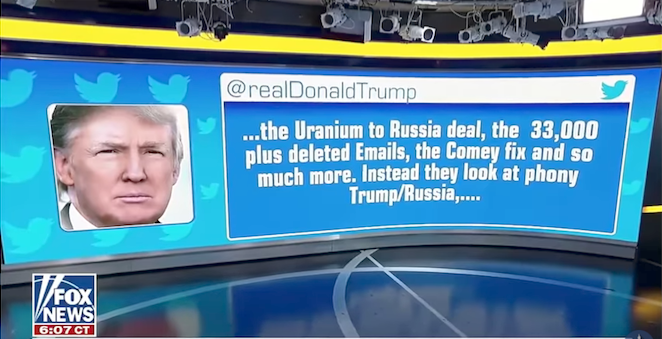 "What he's trying to do is ― he's trying to shift the spotlight back to Hillary Clinton ..." Doocy says, "and suggest that the fact that she funded that the opposition research along with the [Democratic National Committee] was a sign that she was working with Russia."
He then adds, "There should be an investigation."
I can't help but wonder: Why is the mainstream media ignoring this story?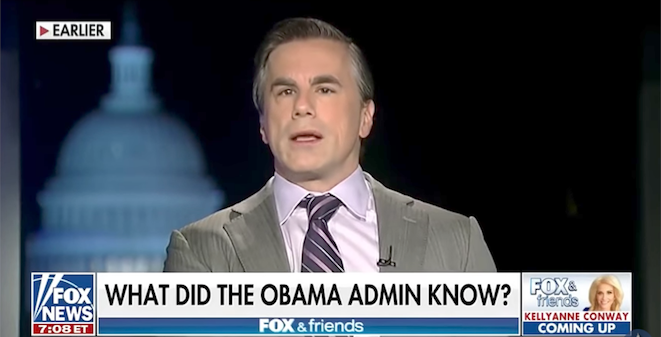 7:10: Earhardt is extremely angry about the leakers who disclosed late last week that indictments were coming in special counsel Robert Mueller's probe of Russian interference in the 2016 presidential election:
Whoever leaked this indictment information that Mueller's going to indict someone today ― whoever that leaker is, I don't think they're ever going to get caught. I think it's just going to get brushed under the table just like everything else. None of these leakers are ever going to get caught.
7:12: "Fox & Friends" is really fascinated by theoretical prospect of a Clinton-Russia investigation.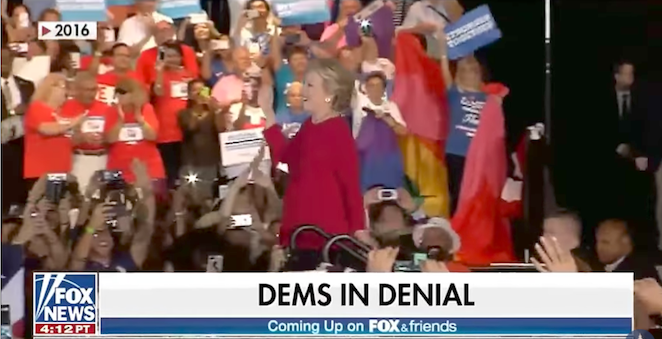 7:17: A side-by-side of Russian President Vladimir Putin and Clinton appears on the screen. Should there be an investigation? "Fox & Friends" is simply asking the questions other networks are too scared to bring up.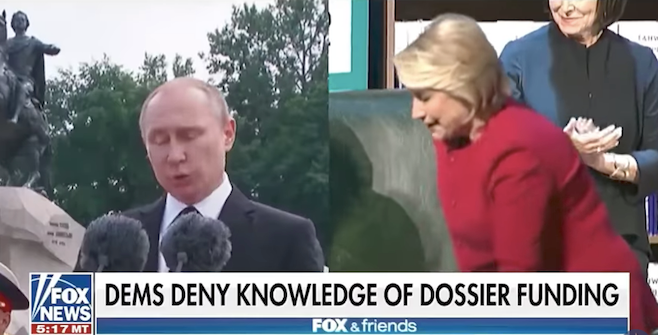 Just kidding: They know there should be. "The left continues to dismiss the Fusion GPS dossier as opposition research while denying any knowledge of its connection to the DNC, but we know it's a fact," Kilmeade says.
7:18: "Fox & Friends" have brought on a like-minded thinker who also cares only for the facts and not for any partisan agenda ― former Trump campaign senior adviser Michael Caputo. Are we talking about the potential indictments against Trump's former campaign chairman yet? No we are not. We are talking about Clinton.
"It went from being desktop research into Donald Trump's businesses and apparently many other candidates' to being a dossier put together by spies. It sounds like a lot of collusion to me," Caputo says.
Kilmeade is flabbergasted and disturbed: "What do you mean? Collusion with the Russians and with Fusion GPS and the Clinton campaign??"
7:24: Apparently some dad got dressed up and looked like a member of ISIS or something.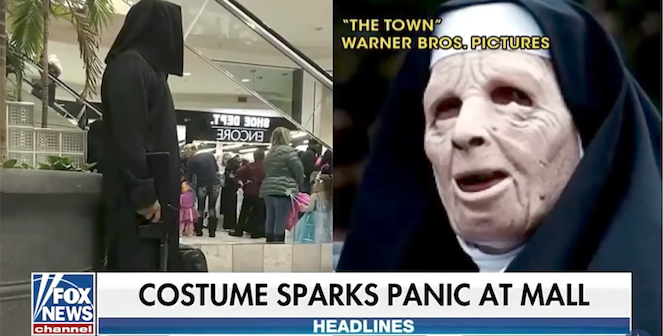 7:25: Our heroes are getting in some attacks on NFL players who are taking a knee before games to bring attention to police mistreatment of people of color. "These players who are kneeling during the anthem, they're taking out their anger about other issues on veterans and on the flag," Earhardt says with horror in her voice.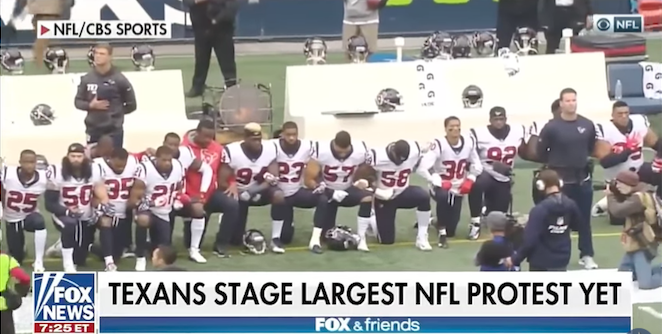 7:29: OK, that was a nice break. Are we getting back to the potential indictment against Trump's former campaign chairman?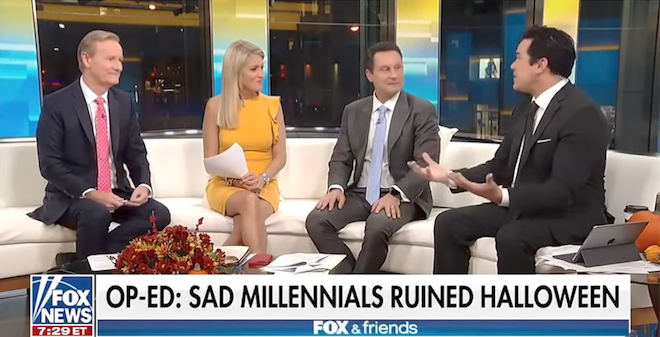 No, we are talking about a New York Post article that argued millennials should not be getting as excited as they do about Halloween costumes. The hosts ask former "Superman" actor Dean Cain for his opinion.Cain said he doesn't really care if adults dress up, but does have an issue with political correctness run amok.
"My biggest problem with what they're doing with Halloween now is the cultural appropriation police," he says. Kilmeade violently rolls his eyes into the back of his head in agreement.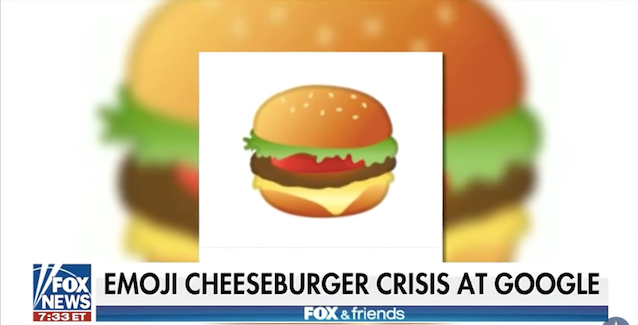 During a segment about Google creating a cheeseburger with the cheese below the meat, Doocy jokes that the company's employees should have just Googled where the cheese goes on a cheeseburger. It's clear he absolutely loves this joke. Also, for some inexplicable reason, Kilmeade blurts out, "As you know, we're American, we don't care about other countries." (This is a joke, I believe.)
7:36: Indictments? No, it's time to rip on two Trump critics ― Ohio Gov. John Kasich (R) and Sen. Bob Corker (R-Tenn.). Doocy jokes about Kasich "getting Trumped" when they competed for the Republican presidential nomination. Earhardt throws out a comment about how Americans are "done with the swamp." Kilmeade says Corker needs to "up the charisma level." Roasted.
7:41: White House counselor Kellyanne Conway is here!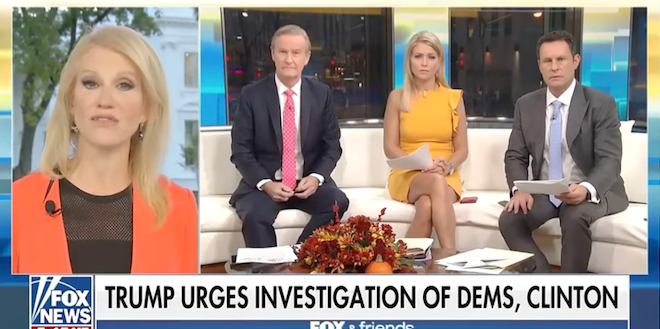 It sounds like they are finally going to actually get into the Mueller stuff a bit more. Doocy starts us off with an introduction about the potential indictments that is not at all leading in its wording.
"We know this because ― because somebody blabbed to CNN. Somebody leaked that; that may or may not be a crime. What are your thoughts?" Doocy asks.
After quickly noting that this whole Mueller thing is a giant hoax perpetrated by the left, Conway is off to the races. She talks about the Clinton campaign and the Russian dossier before saying that the former secretary of state tried to destroy the American health care system 25 years ago when she was first lady. Then Conway complains that Clinton "just won't go away," which seems strange because she brought her up in the first place, but whatever.
7:44: A confused Earhardt interjects with an innocent, totally not biased question.
"Why isn't Hillary or her campaign and the DNC ― why aren't they getting investigated for the Uranium One deal or for Fusion GPS, the dossier?"
A patient Conway explains, "Because most people who would be doing the investigating slash covering the said investigation, Ainsley, voted for her and neither expected nor wanted the election results."
Good enough for Earhardt ― she's convinced.
7:47: The hosts flash some polling data showing that many people are frustrated with the tax system, for which Conway thanks them. "These numbers are so much more important than the silly approval ratings," Conway says, before launching into a monologue about consumer confidence, Dow Jones highs and the like.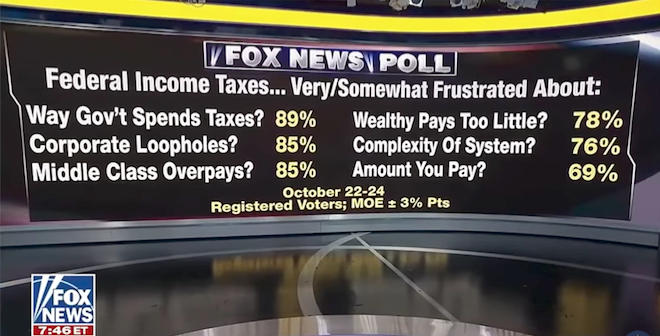 Eventually Kilmeade seems to get bored and breaks in to ask about Fusion GPS and whether Conway thinks Rep. Debbie Wasserman Schultz (D-Fla.) ― the former DNC chairwoman ― is a liar. Then they return to the Mueller probe, something Conway says she and the president "hardly discuss." "I don't remember the last time I discussed this with the president," she adds.
8:01: Conway is gone, and we're finally getting some real news! It's confirmed: Manafort and longtime associate Rick Gates are being charged and are going to surrender to federal authorities.
8:03: Doocy is reading The New York Times story on the indictments off his phone.
8:04: Kilmeade doesn't look pleased. "The big question" surrounding Manafort, Kilmeade says, is whether the alleged crimes "happened during his months with President Trump."
8:06: Kilmeade looks like he's about to punch someone.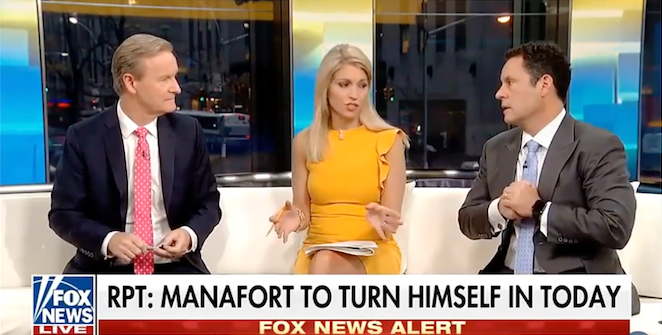 "Keep in mind, and I just keep saying this," Kilmeade says, "just because you're indicted doesn't mean you're guilty of anything! Then you have a chance to find out what they have and you mount a defense. Now you can start defending yourself."
8:07: We're reading Trump tweets again.
8:08: Wait, they're already re-running the interview with Conway? She was just on like 15 minutes ago! Nevertheless, here she is again saying journalists and investigators have a pro-Hillary bias. Then, back to the Democrats and the dossier. "Democrats say it doesn't matter who paid for the dossier, because… it was them!" Kilmeade chirps.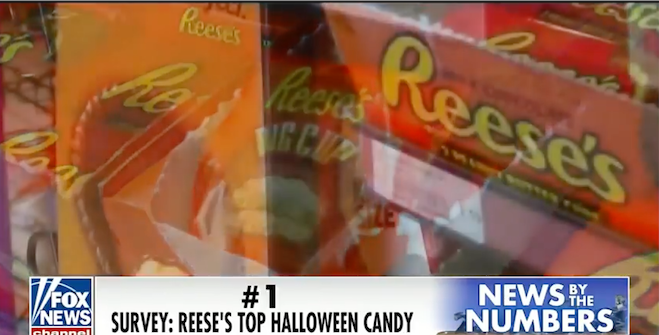 8:25: Apparently someone at The Economist wrote a piece saying that "America's love affair with uniformed men is problematic" and everyone is super pissed, especially Fox News contributor Rachel Campos-Duffy, who calls this part of a larger "effort by the left" to bring down our "last standing institution." (The magazine characterizes itself as "in the radical centre.")
Campos-Duffy then launches into a questionable attack on the Obama administration. The topic involves the celebrations of U.S. troops at NFL games ― planes flying overhead, etc. "It's a great recruitment tool," she says of the celebrations. "It also makes us feel warm and fuzzy. That's the sound of freedom."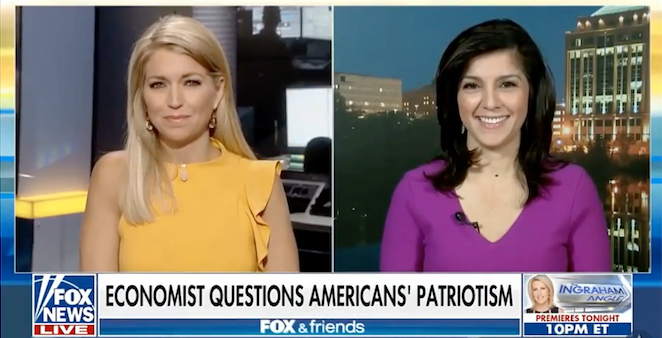 But, she adds, "Under the Obama administration, they made it harder to do those kind of flyovers on football games. So listen: This is part of a concerted effort."
Sorry to note this, but it was Sens. John McCain (R-Ariz.) and Jeff Flake (R-Ariz.) who led the push against what came to be called "paid patriotism." And the reason they were against it was because the Defense Department was using taxpayer dollars to pay the NFL to honor the troops.

Anyway, then there's an obligatory back-and-forth about how the investigation into Trump's potential collusion with the Russians is ridiculous, and Campos-Duffy signs off.
8:32: Manafort has turned himself in! Celebrity lawyer Alan Dershowitz is in the studio explaining that "Manafort is the first domino," and that Mueller will probably try to use the indictment to get leverage to see what he knows about any potential collusion with the Russians. When Doocy says that White House lawyer Ty Cobb has already said that Manafort has no information on that, Dershowitz calls that "wishful thinking" and Doocy gets quiet and looks a little scared.
8:41: The Google cheeseburger is back, and Doocy has made the same joke about Googling where to put the cheese on a cheeseburger. Please kill me.
8:47: Correspondent Jenkins is back to help provide some context from the field.
"Remember," Jenkins says, "the fact that we're following this play out right now in real time came because of a leak which could have potentially broken the law."
9:00: Well, it's been two hours, and I think I have a pretty good handle on the Manafort and Gates indictments: Hillary Clinton is the problem, the leakers need to be locked up, Donald Trump is a victim, the left is conspiring to ruin the country and no one is paying nearly enough attention to the scandal surrounding Fusion GPS and Uranium One. Any questions? Didn't think so.
Related
Popular in the Community