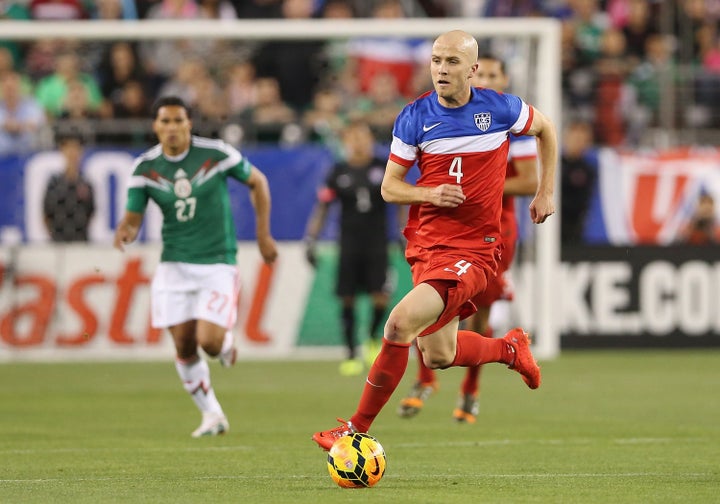 The United States Men's National Team will take on Mexico on Saturday night in a match that has already been billed as one of the most important contests between North American soccer's biggest rivals.
The match determines which team will earn a berth into the 2017 Confederations Cup, a pre-World Cup tune-up tournament that embattled USMNT manager Jurgen Klinsmann has said is vital to the Yanks' preparations for Russia in 2018. 
With all of that on the line, the match doesn't need much help in the hype department. And yet, in an effort to promote it, Fox, which will air it in the U.S., turned to Donald Trump, the business mogul and Republican presidential hopeful who has based his campaign on derogatory language aimed at Mexican immigrants.
The Fox ad follows another one from TV Azteca, the Mexican network that will air the match south of the border. Not long after Trump accused Mexicans of being "rapists" and "criminals" who were turning the U.S. into "a dumping ground for everybody else's problems" in his campaign launch speech, Azteca hit the airwaves with a work of trolly art aimed at the United States and its national soccer team.
Fox's ad is no doubt an effort to respond to Azteca, as it made clear on Twitter. But judging by the response it got from the American Outlaws -- the official USMNT supporters' organization -- and other soccer fans, the ad badly missed the mark. It's no surprise why: whereas Azteca's ad attempts to satirize Trump's anti-immigrant comments, turning them back on the entire nation, Fox's version leans on the candidate who made them.
The context makes it worse. As the USMNT-Mexico rivalry has grown, taunts that may have started innocently enough (a favorite chant of USMNT fans is "dos a cero," a tribute to the Yanks' repeated 2-0 wins over Mexico in major matches) have at times turned into racist and xenophobic behavior toward Mexico fans, an issue that may only occur among a minority of U.S. supporters but exists nonetheless.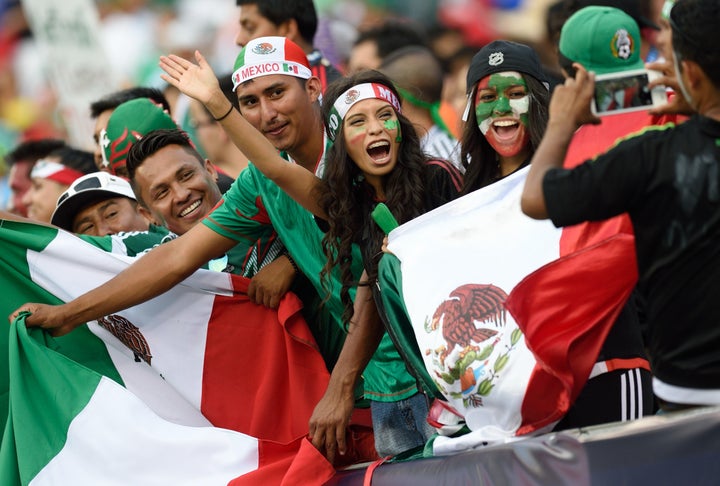 Beyond that, the ad belies Fox's misunderstanding of  the American soccer-watching public.
American soccer fans skew younger and more liberal than society writ large, and the broader American soccer community is a complex mixture of fans who support an array of national teams, including and especially Mexico's. El Tri, by some measures, might be the most popular national soccer side in the United States. It regularly draws bigger crowds than the USMNT for matches played Stateside and has its own TV deal with ESPN and Univision, where it pulls in viewership numbers that are miles ahead of any non-USMNT side.
It is almost certain, too, that when this match kicks off Saturday night in Los Angeles, green-clad El Tri fans will outnumber USMNT supporters. All of this is largely due to immigration, which, it should be noted, has also helped fill out the USMNT's roster.
The ad stands in stark contrast to the views of Michael Bradley, the American captain and midfield linchpin who discussed America's patchwork soccer fabric in an interview this week.
"Certainly when you talk about the United States in a bigger way, one of the beautiful things about our country is the ability for people from all over the world to come here and live and work and in some ways make new lives for themselves," Bradley said this week. "And that's something that I'm personally very proud of. So when it means in a footballing sense that every now and then we play with a few less fans, then we deal with it."
Fox could have taken that view, or stuck to the plenty-compelling soccer storylines that exist within the match. But its attempt to be funny pulled American soccer in the opposite direction, tying USMNT fans who have a healthy view of this rivalry to Trump's views instead. 
Calling all HuffPost superfans!
Sign up for membership to become a founding member and help shape HuffPost's next chapter