Huntsman― a former HuffPost Live host― was attempting to lead a debate between Republican political analyst Gianno Caldwell and Democratic political analyst Wendy Osefo, regarding the status of Confederate statues across the nation. Given the obvious emotional weight of the conversation and the president's failure to address the unambiguous immorality of white supremacy the day before, the debate wasn't a debate at all.
Both Caldwell and Osefo recalled the devastating protests in Charlottesville last weekend and agreed that our country needs to have a conversation about race.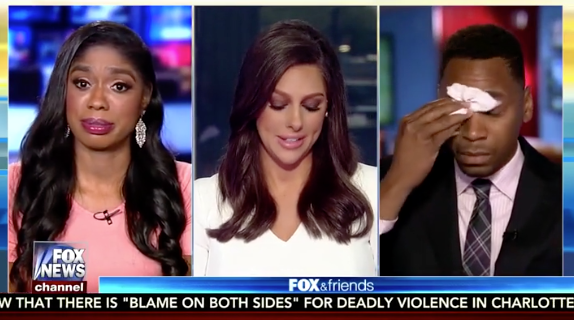 "It's beyond a monument. This is about hatred. This is about white supremacy," Osefo said, while Caldwell solemnly nodded in agreement.
To have Heather Heyer killed on U.S. soil by Nazis, Deandre Harris beaten and bludgeoned by Nazis... This is not partisanship. This is human life. As a mother, to hear the president of these United States not sit here and condemn what has happened, as a black woman of two black boys, my heart bleeds. This is not talking points. This is personal. We as a nation, as a country, have to do better.
Huntsman attempted to veer the conversation back to the commentators' views on the statue debate, saying, "there are good people on both sides of the debate," and did not appear to engage with Osefo's passionate words. 
"How do we move forward and learn from those mistakes if we tear everything down?" Huntsman implored. A visibly distraught Caldwell responds by saying he has a heavy heart and couldn't sleep the night before because "our president has literally betrayed the conscience of our country."
Trump said in a press conference on Tuesday that "both sides" were responsible for the violence in Charlottesville, neglecting to say that white supremacists and neo-Nazis were the protest's planners.
Caldwell went on to make this incredible statement:
The very moral fabric in which we have made progress when it comes to race relations in America... He's failed us. And it's very unfortunate that our president would say things like he did in that press conference yesterday when he says, "tthere are good people on the side of the Nazis. They weren't all Nazis and they weren't all white supremacists." Mr. President, good people don't pal around with Nazis and white supremacists. Maybe they don't consider themselves white supremacists and Nazis; certainly they hold those views. This has become very troubling. And for anyone to come on any network and defend what President Trump did and said at that press conference yesterday is completely lost and the potential to be morally bankrupt. I'm sorry, no, I believe that and I'm being very honest as one who has been talking about these issues for a very long time. I'm sorry that this is where we are right now. I hope the president learns a lesson from his press conference on yesterday. It's disturbing.
Throughout Caldwell's statement, both he and Osefo held back tears. Osefo nodded in agreement with the Republican analyst remarks.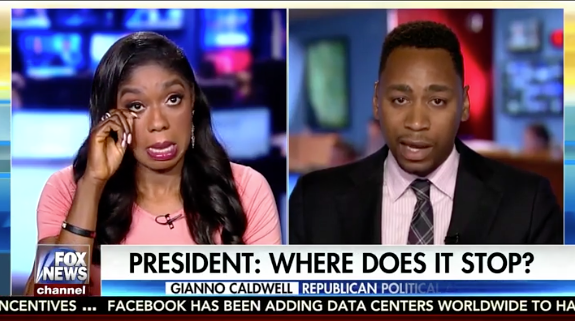 Huntsman barely acknowledged the weight of statement, attempting instead to shift the conversation away from the painful state of race relations to the topic of statues of Confederate memorials. 
But Caldwell elaborated that Trump should "look at the people, not just black folks who may feel marginalized by his comments, but white Americans who fought against slavery and fought against the marginalization of black folks and people of color, even the Jews." He notes that President Obama helped sparked a national dialogue on race. "It's time for us to have that conversation again," he said.
Just before the segment ends, Osefo adds that the country desperately needs "moral leadership" right now.
Huntsman closes out by simply saying, "Strong emotions there, and, you know, it's a tough debate." Again, she neglects to call out the president's wrongdoings, despite both of her guests emotionally encouraging her to do so.
You can watch the entire debacle above.
REAL LIFE. REAL NEWS. REAL VOICES.
Help us tell more of the stories that matter from voices that too often remain unheard.
BEFORE YOU GO
PHOTO GALLERY
Clashes In Charlottesville