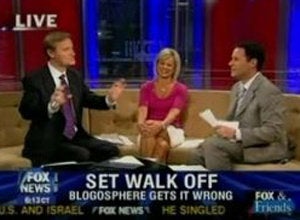 The Fox News team was pressed about recent on-air controversies, such as the caricatures of New York Times staffers that recently ran on the morning show "Fox & Friends."
"Fox News Sunday" host Chris Wallace said he was not aware of the images until he read about them.
"My own feeling is news organizations ought to run regular pictures of people and not doctor them," he said.
[Fox News Channel Executive Vice President of News Editorial John] Moody called the morning program "an entertainment show that does some news," adding that "some of the humor gets edgy."
"Sometimes people don't think it's humorous," he added. "But that's the nature of humor."
As for an anchor's recent description of a "terrorist fist jab" between Obama and his wife, Moody called it "regrettable."
Popular in the Community