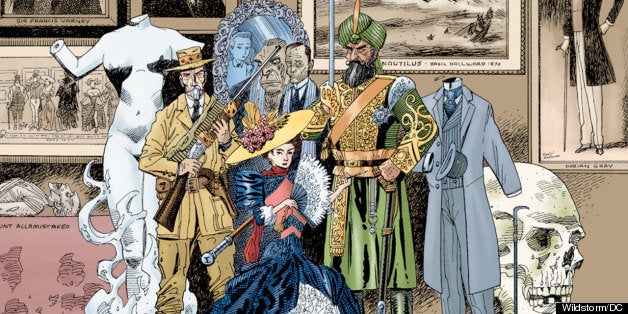 The script hails from "Green Lantern" writer Michael Green, who will also serve as showrunner and executive produce alongside 3 Arts' Erwin Stoff. Moore and the comic's original artist, Kevin O'Neill, are not involved with the series, which will focus on an intrepid group of Victorian-age literary characters including Captain Nemo, the Invisible Man and Dr. Jekyll/Mr. Hyde, who will team up to fight a common enemy.
Under a put pilot order, Fox is obligated to film and air the show's first episode or pay substantial penalties, which generally means that the series is guaranteed a pick-up from the network. 20th Century Fox TV will produce, and the order is Fox's first high-profile drama sale of the season.
The comics were previously adapted into a 2003 movie starring Connery as Allan Quatermain, Shane West as Tom Sawyer, Peta Wilson as "Dracula's" Mina Harker, Jason Flemyng as Dr. Jekyll/Mr. Hyde and Stuart Townsend as Dorian Gray. Though the film was originally intended to kickstart a franchise for studio 20th Century Fox, poor reviews halted the series. The movie grossed $179 million worldwide out of a budget of $78 million.
"100 million dollars –- that's what they spent on the 'Watchmen' film which nearly didn't come out because of the lawsuit, that's what they spent on 'The League Of Extraordinary Gentlemen' which shouldn't have come out but did anyway," Moore told Total Film in 2009. "Do we need any more shitty films in this world? We have quite enough already. Whereas the 100 million dollars could sort out the civil unrest in Haiti. And the books are always superior, anyway."
The project is the latest in a string of high-concept series featuring iconic literary characters. In the 2013-14 season alone, ABC ordered a pilot for "Gothica," a modern-day horror that would've featured Dorian Gray, Dr. Frankenstein and the Van Helsings, which was not picked up to series; Showtime is developing "Penny Dreadful," a "psycho-sexual horror" series also featuring the origin stories of Frankenstein and his monster, Dorian Gray and Dracula, among others; NBC has greenlit "Dracula," a retelling of the Bram Stoker tale starring Jonathan Rhys Meyers; and Fox will air "Sleepy Hollow," based on the story of Ichabod Crane and the Headless Horseman, this fall.
Are you looking forward to another adaptation of "League of Extraordinary Gentlemen," or do you think Alan Moore should be involved?
PHOTO GALLERY
TV Stars Who Don't Watch Their Own Shows
Calling all HuffPost superfans!
Sign up for membership to become a founding member and help shape HuffPost's next chapter