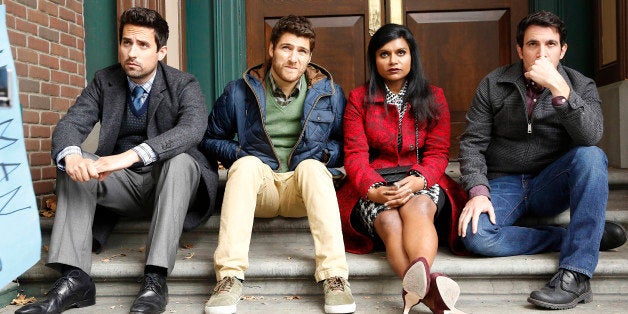 Is this the end of the line for Fox's "Dads"? The network is doing a major schedule shuffle for midseason 2014.
"Dads" will disappear from Fox's schedule as of Tuesday, Feb. 11 after it airs two back-to-back episodes. "The Mindy Project" will leave Fox's schedule after its Tuesday, Jan. 28 winter finale, but is scheduled to return with a one-hour episode on Tuesday, April 1. "Brooklyn Nine-Nine" moves to 9:30 p.m. on Tuesday, Feb. 4. In place of the "Dads" and "Brooklyn Nine-Nine" block will be "Glee." The singing series returns to Tuesdays on Feb. 25 at 8 p.m. "Glee" will finish up its season on Tuesdays with "New Girl" and "Brooklyn Nine-Nine."
"The Following" returns with a two-night Season 2 premiere event starring Sunday, Jan. 19 at 10 p.m. EST (7 p.m. PST) following the NFC Championship game. Then on Monday, Jan. 20, "The Following" makes its timeslot premiere at 9 p.m. EST following the "Sleepy Hollow" Season 1 finale at 8 p.m. "Sleepy Hollow" has already been renewed for a second season.
Greg Kinnear's "Rake" will premiere at Thursday, 9 p.m. EST on Jan. 23 following "American Idol. Kinnear plays "a brilliant and frustratingly charming criminal defense attorney, whose chaotic and self-destructive personal life often gets in the way of his professional one."
"Enlisted" is still slated for Friday, Jan. 10 at 8:30 p.m. EST and "New Girl" and "Brooklyn Nine-Nine" will still get the post-Super Bowl spot on Sunday, Feb. 2.
Request for confirmation of the status of "Dads" was not immediately returned.
BEFORE YOU GO
PHOTO GALLERY
Fox New Shows 2013-2014