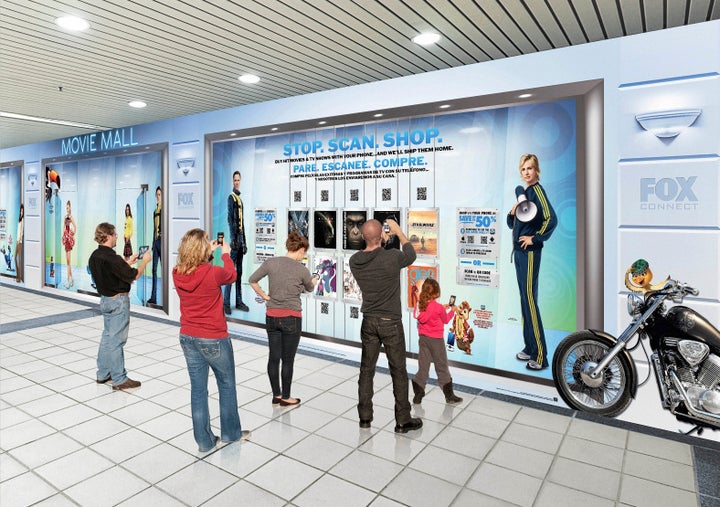 Remember when you would stroll through the aisles of Blockbuster browsing movies? Maybe you even rented one? Movie studios are now trying to revive those good times with a new sales format: the "virtual storefront."
On Wednesday, Twentieth Century Fox announced it would be putting virtual storefronts in at least 18 luxury malls in a year-long partnership with Taubman Properties it's calling the "Fox Movie Mall."
To a time traveler from the Blockbuster era, a Movie Mall would look like an ad for DVDs speckled with weird squares. To today's shopper, armed with a smartphone, those squares are actually Quick Response (QR) codes, portals to an online store where one can purchase, say, an Alvin and the Chipmunks DVD and have it automatically shipped home. In November, Fox launched a similar project in the UK, putting "virtual storefronts" in bus shelters.
"The benefits of the malls and the bus shelters that we did in the UK is that we are going to where the audience is," Mary Daily, CMO of Twentieth Century Fox Home Entertainment wrote in an e-mail statement. "It is convenient for them," Daily added, noting the Movie Malls could potentially reach 60 million people over the next four months.
Film companies like Twentieth Century Fox have been struggling to get people to buy physical movies -- even in high quality DVD and Blu-ray formats -- ever since the dawn of the internet. In the past few years, Blockbuster and other rental companies have caved in the face of competition from Netflix and the Apple store. Shopping malls too have lost business to online retailers like Amazon.com. Many are now closing.
In this context, the Movie Mall might seem like a doomed marriage of two aging business models. Yet virtual stores cost less to run than brick and mortar stores, and are managing to make money for some companies. Supermarket chain Tesco pioneered the idea in late 2010, with virtual grocery stores in Korean subways. The concept was a hit, pushing the company's online sales to jump 130 percent. Many other companies, including Toys "R" Us, Sears, Kmart and eBay have since followed suit.
Taubman, an upscale mall chain, is also one of the only mall owners whose properties thrived throughout the recession, seeing high foot traffic and sales. Its wealthy shoppers -- and their kids -- will no doubt have the gadgets they need to get their hands on Alvin and the Chipmunks: Chipwrecked, the Movie Mall's first big DVD launch.
"We are constantly looking for new opportunities to reach consumers and this technological advancement has allowed us to further engage with them," Daily wrote in a press release.
See more photos of the Movie Mall:
Calling all HuffPost superfans!
Sign up for membership to become a founding member and help shape HuffPost's next chapter
BEFORE YOU GO