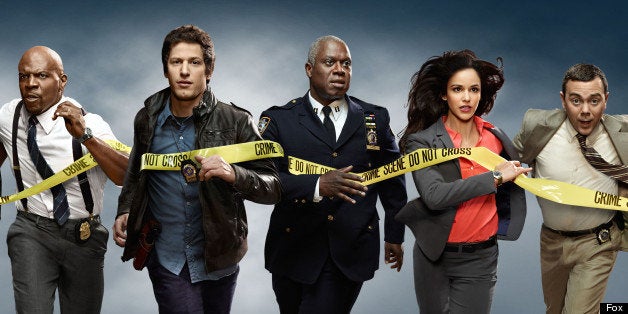 We've seen the pilots of Fox's new shows, and while they're not for review (things often change drastically before the shows are set to premiere), we do want to share our first reactions to what's coming in the fall and midseason.
This quick guide is designed to get you excited for some new shows ... and to warn you to curb your enthusiasm for others. Just keep in mind that we'll have full reviews of the final pilots closer to airdate. For now, here are our snap judgments of Fox's new shows for the 2013-2014 TV season.
Here's how we broke them down:
Watch It - awesome show, can't wait for more
DVR It - there's potential, will give it a second chance
Skip It - it's either horrible or just totally not their thing
"ALMOST HUMAN" Read more about "Almost Human" and watch a preview here Ryan: Skip It I really want Karl Urban on my TV every week, but a show about a rebel cop from the future with a rebel cop robot sidekick? It sounds like something Jack Donaghy from "30 Rock" would pitch.
Furlong: Skip It One guy is a "part-machine cop," the other a "part-human robot." What the hell is the difference? After watching the pilot, I still don't know. Or care.
Etkin: Skip It Another series with J.J. Abrams' name on it, but this one shows more promise than both NBC's upcoming "Believe" and Fox's recent high-concept efforts. Karl Urban brings the gruffness and Michael Ealy brings those sparkling eyes to this new kind of buddy cop drama. I imagine sci-fi fans will be charmed, but I am not one of them.
Moaba: Skip It The year is 2048. Crime is up 400 percent. People are still trying to make a sci-fi cop show happen. Michael Ealy does plays a cool robot though.
Harnick: Skip It I wanted to like it more, but there was too much thrown at me as a viewer to care.
Prudom: DVR It There's plenty of Joel Wyman's signature "Fringe" flavor here, and the futuristic world is well-defined. While there's some clunky dialogue and one painfully stereotypical bad cop, the dynamic between Karl Urban and Michael Ealy is compelling and the pilot leaves us with a number of questions I want answers for.
Weingus: DVR It In "Almost Human's" defense, I've never been a fan of robot storylines, and 2048 seems eerily close to 2013. But if you're a science fiction fan, give it a whirl.
"BROOKLYN NINE-NINE" Read more about "Brooklyn Nine-Nine" and watch a preview here Ryan: DVR It As we saw with "The Good Guys," it's hard to make a cop comedy work over the long term, even with a good cast. I'll give this a shot though, given that Andre Braugher is unsurprisingly awesome in it.
Furlong: Watch It I'm not an Andy Samberg fan, so I went into this with low expectations, but was instantly surprised -- it's a funny cop show that I can already see gelling, especially with great moments from the usually dramatic Andre Braugher.
Etkin: DVR It This is not exactly my brand of humor, but I do give "Brooklyn Nine-Nine" credit for introducing an LGBT character like we've never seen before. I might watch to see where that story goes.
Moaba: Watch It My favorite comedy so far this season. Andy Samberg and Andre Braugher have a funny good cop/bad cop thing that feels like an updated '70s cop show. Samberg plays a Michael Scott-esque detective with Brauer as his straight-laced, tough new Captain. Harnick: Watch It One of the best new comedies of the season, "Brooklyn Nine-Nine" is funny in all the right ways.
Prudom: Watch It It remains to be seen whether Andy Samberg's schtick will become too much over the course of a season or five, but in the pilot, it's tempered with enough funny moments to avoid becoming obnoxious. The show's real strength could lie in its supporting cast, with Terry Crews and Andre Braugher stealing a number of scenes in the first episode.
Weingus: DVR It This show is populated with funny characters and has all the right ingredients for a solid workplace comedy. It's not exactly my sense of humor, but it's definitely worth a shot, especially because of a surprising and great Fred Armisen appearance.
"DADS" Read more about "Dads" and watch a preview here Furlong: Skip It This doesn't happen often, but there are no words to describe this one ... at least not any words fit to print.
Harnick: Skip It Stay away ... stay very, very far away. It's instantly offensive and not in a good way like Seth MacFarlane's "Family Guy" can be. Just save your brain cells.
Prudom: Skip It Just as bad as it looks. All of "Family Guy's" fratboy humor with none of its wit or creativity. Ugh.
Weingus: Skip It "Dads" is all about the cheap humor and racist jokes. Here's an example: "You can even impale Hitler with a Menorah. What the heil?" Save yourself half an hour.
"ENLISTED" Read more about "Enlisted" and watch a preview here Ryan: Watch It This comedy is well cast and made me smile quite a few times. If we're lucky, it'll develop into a sitcom version of "Stripes."
Furlong: DVR It This is Geoff Stults' annual pilot, and sadly, I still don't think it's the one that'll stick. I laughed a bit, but there's not much new here to get me excited enough for appointment viewing.
Etkin: Skip It This is presumably targeting people who'd want to watch a show about the army, yet it takes military life very lightly. Though I'm not sure this show will find an audience, the attractiveness of the three brothers could bring in some viewers initially. But only Chris Lowell of "Veronica Mars" fame is charming enough to sorta kinda make me want to watch Episode 2.
Harnick: DVR It Oddly charming, "Enlisted" is essentially "Police Academy" with three handsome dudes. I won't be tuning in regularly, but can definitely see the occasional viewing.
Prudom: DVR It Undeniably goofy, but Geoff Stults, Chris Lowell and Parker Young are an engaging comedy trio. I care far more about the brotherly relationship than any of the wacky hijinks from the one-note supporting characters, but the pilot gave me a couple of laughs.
Weingus: Skip It It's always nice when someone's brother comes home from the war, except when mass chaos ensues. "Enlisted" was way too over-the-top for me.
"SLEEPY HOLLOW" Read more about "Sleepy Hollow" and watch a preview here Furlong: Skip It It's Ichabod Crane, time-traveler! This show is just batshit crazy enough to be a surprise hit ... I just can't watch another minute after this ridiculous pilot to see if it gets better.
Etkin: Skip It If there was a different serial killer storyline at the center of this drama, I think I might like it -- though I realize that's like saying, "Grilled cheese, hold the cheese, please." The Ichabod Crane and the Headless Horseman tale is just so stale and particularly far-fetched here, but the suspense factor and leading lady (Nicole Beharie) are right on point.
Harnick: Skip it Stylistically, "Sleepy Hollow" is sleek and pleasing to the eye. But, despite its Starbucks jokes, it's "Hollow" and made me "Sleepy." I'll just see myself out ...
Prudom: Watch It The pilot felt like "Elementary" meets "Supernatural" with a dash of "Fringe," but, despite seeming overly familiar, that combination works in its favor. Nicole Beharie is one of the most effortlessly charismatic leading ladies network TV has uncovered in recent memory, and Tom Mison is both snarky and charming as Ichabod Crane. If you can get over the inherent silliness of the concept, it's a fun, engaging hour.
Weingus: DVR It I liked the idea of "Sleepy Hollow" more than I actually liked the pilot, but I do think it has the potential to pick up steam. Nicole Beharie is pretty awesome in the role of Abbie Mills, so all is not lost.
"GANG RELATED" Read more about "Gang Related" and watch a preview here Furlong: Watch It I'm so totally into this show. We need more intense, layered, gritty cop dramas on TV, and while this pilot isn't perfect, I love that the setting and underhanded police dealings are reminiscent of "The Shield," with the casting of Dutch boy (Jay Karnes) as a bonus.
Etkin: DVR It I had no expectations for this cop drama, but "Gang Related" definitely engaged me. Of couse, the gangster-officer storyline will be difficult to keep up, but for those looking for a non-sci-fi drama to pick up next season, this would absolutely be my second choice, next to "The Blacklist."
Harnick: Skip It Not my bag, but should satisfy the audience who loves dark cop dramas.
Prudom: DVR It Basically the male-skewing version of "Mob Doctor" with more explosions and less white-washing. Unlike "Mob Doctor," the dynamics between the gangs and the many lies that pile up on the protagonist's head seem vaguely interesting. It won't be appointment viewing, but I'll probably give it a second look. (I was more excited that "Fast and Furious" star Sung Kang was in it than by most of the plot.)
Weingus: Skip It "Gang Related" is not going to be the next great gang show. Stick to "The Wire" if you know what's good for you.
"RAKE" Read more about "Rake" and watch a preview here Furlong: DVR It I was excited to see Greg Kinnear take his first TV role, but this overloaded pilot wasn't strong enough to put the series on my must-watch list. I'll give it a few more episodes to see if they can make the juggling act work, but there's a lot to fix.
Etkin: Skip It Greg Kinnear is one of the more likable and charming actors Fox could've brought to the table, but they're using him in the worst way possible. Kinnear's Keegan Deane is not charismatic in the least, he's just a backwards mess. I have no desire to watch his bedroom or dental woes play out.
Moaba: Skip It "Rake" somehow manages to make the life of an alcoholic, degenerate gambler lawyer who's in love with a hooker seem boring.
Harnick: Skip It Sorry, Greg Kinnear, but I just couldn't get into this.
Prudom: Watch It Smart, slick and an excellent demonstration of Greg Kinnear's many talents. He's surrounded by an equally interesting supporting cast, and though the show has drawn comparisons to "House," it doesn't seem to be retracing too many of that Fox drama's footsteps, even if the protagonists are both "rakish" rule-breakers.
Weingus: Skip It "Rake" was all over the place, and Greg Kinnear was pretty boring as far as lawyers with gambling problems go. In fact, the whole pilot was kind of a snoozefest.
"SURVIVING JACK" Read more about "Surviving Jack" and watch a preview here Furlong: Skip It Sometimes shows benefit from being set in the past (see ABC's "The Goldbergs," snap judgments coming soon), and other times -- like this -- it just keeps you asking why. Christopher Meloni can definitely do funny, I just wouldn't call this funny.
Etkin: DVR It "Wet Hot American Summer" (and I guess "Harold & Kumar") fans know Christopher Meloni can be funny -- this show will open more eyes to the fact that he's more than just Detective Elliot Stabler. Plus, the news clips, pop culture references and music (if the pilot's soundtrack remains when the show airs) are enough to keep any child of the '90s coming back for more.
Moaba: DVR It Combines '90s nostalgia with a "Wet Hot American Summer"-style comedic performance from Christopher Meloni, playing a crazy dad, and a relatable high school storyline. The formula actually works pretty well.
Harnick: Skip It Christopher Meloni is the ultimate grumpy TV father. It feels like classic Fox comedy, but not something I want to add to my schedule.
Prudom: Watch It Chris Meloni + '90s music + coming of age shenanigans = a recipe for success. If it comes to a showdown between this and the equally nostalgic "Goldbergs" on ABC, "Surviving Jack" has the edge in terms of laughs.
Weingus: Watch It Unlike "Us & Them," I didn't expect to like "Surviving Jack." I'm generally not a fan of dads who take the tough love approach, but Chris Meloni made me laugh and the narrated coming-of-age tale had a sweetness to it that reminded me of "The Wonder Years."
"US & THEM" Read more about "Us & Them" and watch a preview here Furlong: Watch It It's quirky, raunchy and at times totally offensive. I kind of love it.
Etkin: Skip It Even though I know Mark Cyr is far too good for Sarah Braverman, it pains me that this show is the reason Jason Ritter won't be part of "Parenthood" Season 5. Bathroom humor, puke scenes, fat jokes and a poor man's Jack Black? No. Just no.
Moaba: Skip It There could be a halfway decent rom-cam in here somewhere that I still wouldn't watch, but it's buried under a few layers of awkwardness, poop jokes and puke.
Harnick: DVR It The pilot was a mess, but like "The Mindy Project" before it, I hope "Us & Them" works out its kinks, tones down the absurd supporting cast and lets its charming leads shine. A plea: Don't waste Jane Kaczmarek!
Prudom: DVR It I haven't seen the original "Gavin and Stacey," which probably helps, but this had just the right amounts of sweet and quirky to tick my boxes, even if it wasn't laugh-out-loud funny. Ritter and Bledel have believably awkward chemistry, and the show utilizes its supporting cast well.
Weingus: Skip It I really, really wanted to like this. "Gilmore Girls" was one of my favorite shows in high school, and I'm a huge "Parenthood" fan. But Alexis Bledel and Jason Ritter have zero chemistry, and the friends they choose to bring on their first date (is that a thing?) are downright odd.
WANT MORE? SEE FIRST IMPRESSIONS FOR
PHOTO GALLERY
Fox New Shows 2013-2014
Calling all HuffPost superfans!
Sign up for membership to become a founding member and help shape HuffPost's next chapter
BEFORE YOU GO