Last week, I wrote "5 Things You Must Tell Your Grandma About The Ads On FOX News So She Doesn't Get Scammed." The article detailed the shady and criminal business practices of many of FOX News' most frequent advertisers -- especially Goldline and Cashcall. In order to draw my conclusions, I took copious notes on the 150 commercials that ran between noon and 5pm on FOX News*. It was my most popular post, ever. 520 comments, nearly 500 social shares and 317 people clicked the "Pulitzer" button.
For this new post, I've gone back and re-watched the same 5 hours** of FOX News. You'd be surprised how much blood spilled from my eyes this time, what with the scars from last week still raw and moist. Anyway, this time I didn't look for scams. I looked for African Americans.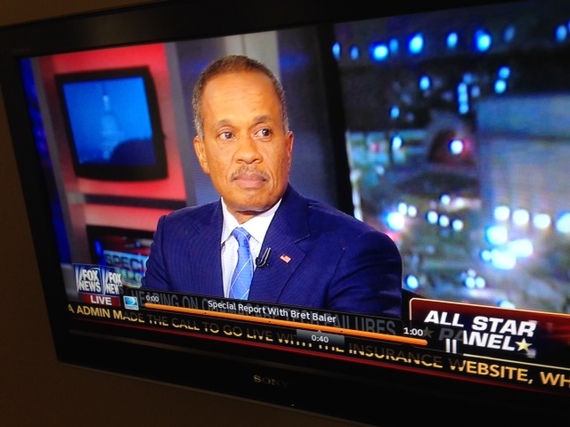 During 5 hours of programming, Juan Williams was one of just two African Americans to appear live on FOX News.
Why African Americans? Well, it's been just about a year since Mitt Romney's loss and since then, there's been extensive talk about making the Republican party -- and by extension, I guess, it's media mouth piece, FOX News -- more inclusive. Last week, in fact, I thought FOX was headed in the right direction when I overheard Bill O'Reilly exclaim "Can't touch this!" Turns out he was just talking about his guns and was not discussing immigration with MC Hammer.
Anyway, here now, the results of my investigation. And as a reminder: none of the following will contain my opinion. I'm just sharing facts. For the uninitiated, "facts" are those things which are incontrovertible. They are 100% verifiable. Facts do not have two sides.
During the five hours I watched, the number of African American reporters to appear on Fox News was... none. Meanwhile, over at CNN -- where I also watched the 5 hours of programming on at the same time -- three African American reporters appeared on-air, two of them filed reports on two different shows each.
2. FOX NEWS DIDN'T INTERVIEW ANY AFRICAN AMERICANS IN STUDIO
Nearly 20 people who are not FOX News contributors, reporters or analysts, were interviewed live by the FOX News hosts in their studio during the 5 hours of news coverage. Some people appeared in studio, some appeared live via satellite. However, none of those interviewed live were African Americans.

3. FOX NEWS HAD 50% FEWER COMMERCIALS FEATURING AFRICAN AMERICANS.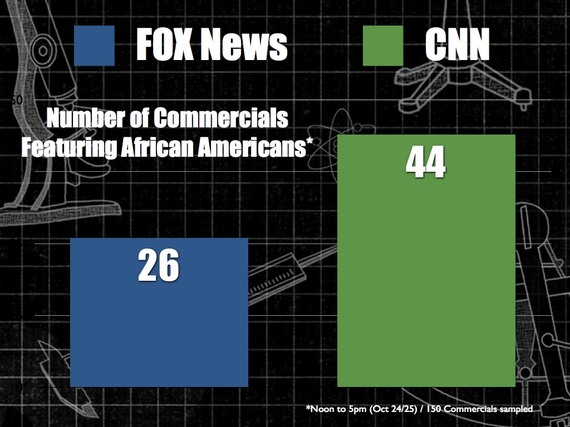 After watching 150 commercials that aired on FOX during the 5 hours of viewing, I then watched the 150 commercials that ran on CNN at the same time. Of the 150 commercials on FOX News, 26 featured an African American. And when I say "featured" I use that term broadly. My criteria was, "Could I see an African American person in the commercial?" Anyway, over on CNN, where I also watched 150 ads, the number of commercials that featured African Americans was 44. Percentage wise, 17% of FOX's commercials featured African Americans while 30% of those on CNN featured African Americans.
__________________________YOU'LL ALSO LIKE _____________________
On the Fox News website, they feature photos of their 43 program hosts. How many of them are African American? Two. And neither of those two are the hosts of their own show, rather, they are co-hosts on the panel programs, Happening Now and The Five. As a percentage, 4% of Fox News' program hosts are African American. Meanwhile, over at CNN, according to their home page, they have 36 program hosts, 9 of which are African American. As a percentage, that's 25% (CNN) vs 4% (FOX News).
According to their own website, FOX has 162 contributors who appear on their air. How many of them do you think are African American? 8%. That's 13 out of 162. Meanwhile, over at CNN, of the 87 contributors listed on their website, 15 are African American. As a percentage, that's 17% (CNN) vs 8% (FOX News).
So, there you have it. I leave it to you to form your own conclusions.
As they say on FOX News, "We report. You decide."
*Two of the FOX News shows were watched on Oct 24 and 3 others on Oct. 25. All of CNN's commercials were from Oct 24th.
**The five shows watched were those hosted by Bret Baier, Gretchen Carlson, Shep Smith, Bill Hemmer and Greta Van Susteren.
Popular in the Community