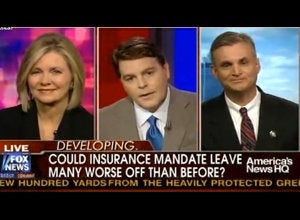 Fox News anchor Gregg Jarrett grew angry with Rep. Rob Andrew (D-NJ) this weekend after the congressman took a shot at the network's "Fair & Balanced" tagline.
During a debate on police powers, insurance, and the Constitution, Andrews who appeared with Rep. Marsha Blackburn (R-TN) found himself talked over and unable to make his point.
"Can we have just a minute of 'Fair & Balanced' here, just as an exception?" Andrews asked, as Blackburn chuckled.
Given the accusations swirling from the White House that Fox News is not a legitimate news organization, Jarrett did not take the swipe lightly.
"Congressman Andrews, I'm not gonna let you get away with that because I asked a very tough question of your colleague Marsha Blackburn and you know it," Jarrett said. "And that's a cheap shot and I'm not gonna put up with it here."
Jarrett promptly concluded the interview.
Popular in the Community