On Jan. 14, 2015, John David Weissinger called the San Diego office of the Council on American-Islamic Relations -- a civil rights group that advocates on behalf of U.S. Muslims -- and left a terrifying voice mail.
"You're gonna be in the news. It's gonna be like Charlie Hebdo," said Weissinger, 54, referring to the deadly attack on the French satirical magazine that had taken place a week earlier. "Guess what? It's coming your way, motherfuckers."
The following audio contains profanity.
Weissinger followed up with an email to CAIR spokesman Ibrahim Hooper.
"I'll show up any day, any time with plenty of firepower to kill any and every one of you fuckers," Weissinger wrote. "It's coming your way and Hell is coming with it."
CAIR reported the voice mail to San Diego police, who tracked Weissinger down and arrested him two weeks later in his home. There, they also recovered an unlicensed AR-15, an assault weapon that is illegal in California, and an illegal large-capacity ammunition magazine.
Weissinger pled guilty in August to felony charges of possessing an illegal firearm and making a criminal threat determined to be a hate crime, along with a misdemeanor charge of interfering with civil rights. 
This Tuesday, during a sentencing hearing, Weissinger's attorney advanced a peculiar argument: His client, who was drunk when he made the threats, had committed the crimes "after a week of watching Fox News over and over."
"Fox News is a hate machine, spewing out horrible things" about Muslims, attorney Michael Malowney said.
Malowney said he wasn't trying to make up a "lame excuse" for Weissinger -- who he said struggles with depression and anxiety -- or say that "Fox News made him do it." But Malowney did argue that Islamophobia, of the sort propagated by media outlets like Fox News, helped push a susceptible man over the edge.
Fox News did not respond to a request for comment Friday.
It's true that Fox News has served as a platform for some of the country's most vile Islamophobia. According to the liberal media watchdog group Media Matters for America, in the week after the Charlie Hebdo attacks -- when Weissinger was watching Fox News constantly -- the cable channel ramped up its rhetoric against Muslims. Host Sean Hannity, for example, asked whether the U.S. should "insist" on assimilation from Muslim immigrants. Bob Beckel, the channel's supposedly liberal counterweight, flat-out declared, "I'm an Islamophobe."
Fox News invited one polemicist after another to rail against Muslims in broad, blanket terms. Steve Emerson, a self-styled "terrorism expert" of limited credibility, appeared on the channel at least four times in the week after the Charlie Hebdo killings. Emerson claimed that Birmingham, England, was a "totally Muslim" city "where non-Muslims just simply don't go in." Birmingham is in fact 22 percent Muslim. In another appearance, Emerson said that Europe was "finished" because it had too many Muslims who hadn't assimilated to Western culture. In response, U.K. Prime Minister David Cameron called Emerson "clearly an idiot."
Robert Spencer, director of the anti-Muslim website Jihad Watch, claimed on Fox News' "Hannity" that a "core principle" of Islam is "the idea of emigrating to a new place to conquer and Islamize it." Spencer is a known personality on the anti-Muslim circuit who "engages in fear-mongering through steady reference to theories like 'stealth jihad,' eminent 'Islamization of America,' and the infiltration of Congress by 'Muslim spy interns,'" according to the Southern Poverty Law Center.
"Agenda-driven media outlets like Fox create an atmosphere in which hate crimes are more likely to occur."

Ibrahim Hooper, spokesman for the Council on American-Islamic Relations
People commit crimes for all kinds of reasons. But it's impossible to deny that rhetoric has consequences.
There's no available data yet on hate crimes in the U.S. following the Charlie Hebdo attacks. But Professor Brian Levin, a criminologist at California State University, San Bernardino, has analyzed hate-crime data for the months following other recent attacks in Paris and San Bernardino, California. The militant group that calls itself the Islamic State claimed credit for the Paris killings, while authorities say the San Bernardino shooters were adherents of radical Islamic theology and admirers of ISIS.
After the Nov. 13 attacks in Paris and the Dec. 2 shootings in San Bernardino, speakers on Fox News and other cable channels relentlessly demonized Islam and argued that all Muslims should be considered dangerous. 
According to Levin's data, the number of U.S. hate crimes targeting Muslims and mosques during that period was three times as high as in previous months. The Huffington Post alone has documented nearly 80 anti-Muslim incidents in the U.S. and Canada in the two months since the Paris attacks.
"Agenda-driven media outlets like Fox create an atmosphere in which hate crimes are more likely to occur," Hooper said. "It's not a shock to anyone that someone taking on a steady diet of Fox evening talk programs would come away with Islamophobic view points."
The judge didn't buy Weissinger's Fox News defense on Tuesday, sentencing him to a year in prison and five years' probation.
Malowney told HuffPost he wasn't surprised by the decision. Weissinger was ultimately responsible for his own actions, he said, and the judge "wanted to send [the] message that you can't do this."
Still, Malowney maintained that exposure to anti-Muslim propaganda was a "mitigating factor" in his client's case.
"He lashed out for sure at who he thought was hurting the country," Malowney said. "There are going to be more people like this when Fox News broadcasts such hatred."
It would be a huge oversimplification, of course, to claim that Fox News and Fox News alone has been responsible for the rising tide of anti-Muslim acts and sentiments. Still, the role of media in these circumstances can't be ignored. A 2010 academic study from the University of Exeter's European Muslim research center, for example, found that anti-Muslim media coverage had led directly to a rise in hate crimes against London's Muslim population. 
"The report provides prima facie and empirical evidence to demonstrate that assailants of Muslims are invariably motivated by a negative view of Muslims they have acquired from either mainstream or extremist nationalist reports or commentaries in the media," the report says.
And Fox News can certainly boast a large reach. It's the country's top cable news channel, according to Nielsen data, and often beats out ESPN in the ratings. An average of 1.8 million people tune in to Fox News' primetime programming each night.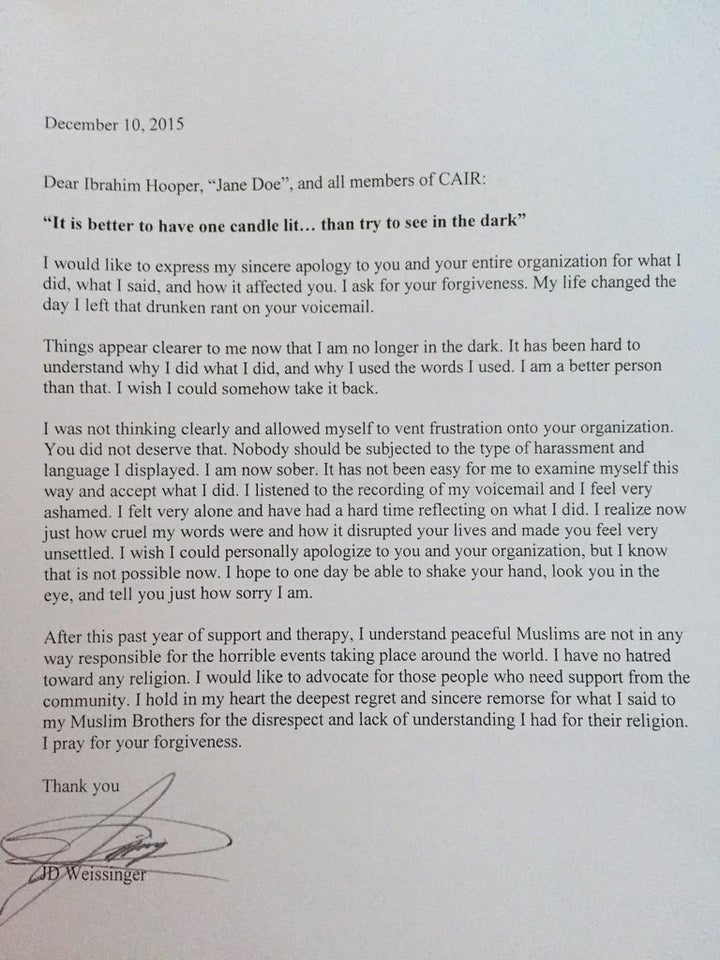 Weissinger wants Hooper and other employees at CAIR to understand how sorry he is. He wept in court Tuesday when a CAIR employee described the "terror" she felt upon hearing his threatening voice mail. In a Dec. 10 letter to the organization, Weissinger wrote that "nobody should be subjected to the type of harassment and language I displayed."
After a year of "support and therapy," the letter continues, "I understand peaceful Muslims are not in any way responsible for the horrible events taking place around the world. I have no hatred toward any religion."
Malowney told HuffPost that Weissinger "blames himself for being under the influence of booze and Fox News." Both are vices, Malowney added, that Weissinger has recently decided to give up.
Calling all HuffPost superfans!
Sign up for membership to become a founding member and help shape HuffPost's next chapter