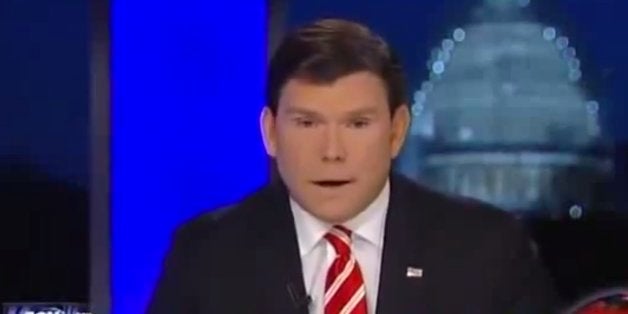 Fox News aired graphic images from the new video released Tuesday that appears to show the Islamic State burning alive Jordanian fighter pilot Lt. Muath al-Kaseasbeh.
Anchor Bret Baier warned viewers on "Special Report" Tuesday evening that the pictures were coming, adding, "We feel you need to see it."
"Tonight, we are going to show you some of the images ISIS has put out," he said. "The images are brutal. They are graphic. They are upsetting. You may want to turn away. You may want to have the children leave the room right now."
The Fox News anchor added that the network decided to air the horrific images in order "to bring you the reality of Islamic terrorism."
The network also chose to embed the entire ISIS video on its website, which brought on criticism from other outlets.

Fox News executive vice president John Moody gave the following explanation in a statement to The Huffington Post:
"After careful consideration, we decided that giving readers of FoxNews.com the option to see for themselves the barbarity of ISIS outweighed legitimate concerns about the graphic nature of the video. Online users can choose to view or not view this disturbing content."

Earlier on Tuesday, however, Fox News' Shepard Smith chose not to show the video or any images from the video, but rather to give viewers an extremely detailed verbal account of what happened.
Other networks took a different stance. CNN announced that they would not be showing any of the pictures.
"CNN is not showing images of the killing, which triggered global condemnation and prompted immediate promises of retaliation and protests in Jordan, one of more than 60 nations involved in the U.S.-led coalition against ISIS in Iraq and Syria," the network wrote Tuesday.
WARNING: The video below contains extremely graphic images.
Support HuffPost
The Stakes Have Never Been Higher
Related
Popular in the Community