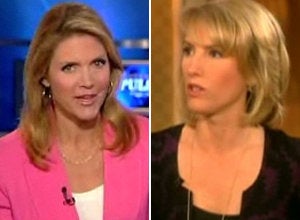 Perhaps feeling the ratings heat, Fox News is making changes to its afternoon lineup.
America's Pulse anchored by E.D. Hill goes away, but Hill stays with the network in a capacity to be determined. Hill has been with FNC since 1998. She co-anchored Fox & Friends for several years before moving to the 11amET hour, then launching America's Pulse.
TVNewser further reports that Martha MacCallum's "Live Desk" will be expanded to two hours and that she will take on a co-host, Trace Gallagher.
The Fox News Channel, which has been seeking a new format for the 5 p.m. hour, will place a rotating series of personalities in the time slot beginning next week, including the conservative radio host Laura Ingraham.

Ms. Ingraham, one of the country's most popular radio hosts, frequently fills in for Bill O'Reilly, and Fox executives appear to be grooming her as a new talent for the network. Other people will also receive trial runs in the time slot.

Fox News Channel is expected to announce the changes later Tuesday. In February the cable network replaced John Gibson, the longtime host of the 5 p.m. hour, with Bill Hemmer and Megyn Kelly, two younger anchors who also host a morning show. Mr. Hemmer and Ms. Kelly's afternoon show, "America's Election HQ," covered the primary season. But now, with the party nominees known and two months until the political conventions, there may not be quite as much election news to cover.
Related
Popular in the Community