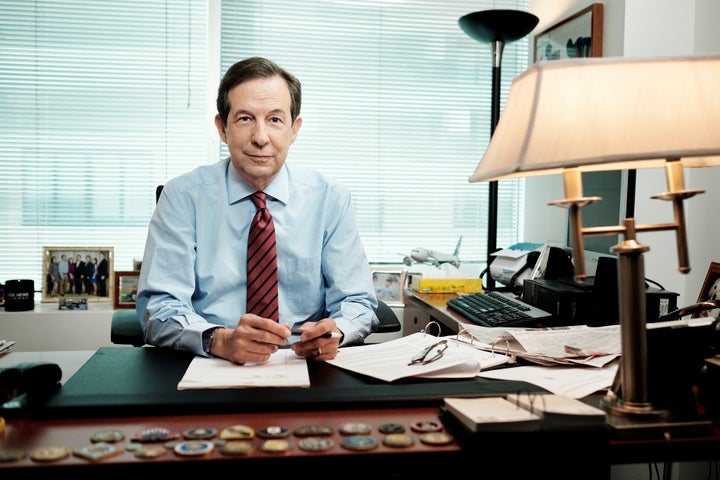 NEW YORK ― Chris Wallace has spent decades trying to puncture holes in politicians' false or misleading claims. But a presidential debate, he insists, isn't a Sunday morning interview.
"An interview ― it's you and the candidate, and you're the person holding them to account," Wallace said over the weekend on "Fox News Sunday," the public affairs show he's hosted for 13 years. "This is a debate. And, you know, they're both going to be on the stage. If I think there's a need for me to intervene, I will, but I would prefer not to."
Wallace, moderator of the third and final presidential debate Wednesday night in Las Vegas, hasn't ruled out real-time fact-checking. But his stated preference for not doing so has ignited a journalistic debate over the debate moderator's role.
Three days after Wallace's remark, NBC's Matt Lauer failed to push back against Trump's false claims at a candidate forum, leading to even more pressure on presidential debate moderators to hold the nominees accountable.
But Wallace said he saw the criticism of Lauer as misplaced, and indicated in a Fox News appearance the following day that he wasn't going to change his plans. "I don't know exactly what I'm going to do in the moment," Wallace told anchor Brit Hume. "But my disposition is I would rather have the two candidates speaking to each other, than speaking to me."
"You make yourself too big a figure as moderator in the debate, it's not a debate anymore," Wallace added. "It's like a couple of side-by-side news conferences and I don't think that is your point."

At the first presidential debate on Sept. 26, NBC anchor and moderator Lester Holt fact-checked several of Trump's false claims, including his recurring lie about being a staunch opponent of the Iraq war. Holt endured criticism for days from Trump and his surrogates. Trump's persistent gripes about moderators treating him unfairly ― before, during, and after he's hit the stage ― have only heightened the scrutiny.
Wallace acknowledged "there's a lot of pressure" and "a lot of stress" that comes with the moderator's high-profile gig. "We've seen [the] previous moderators get criticized, and at certain points I've had to remind myself, this may be a once-in-a-life opportunity, so have fun," he said Sunday. "To the degree you can stop biting your nails, have fun with it."
Wallace said he aimed to be a "timekeeper" in Las Vegas, rather than "a participant."
It's understandable Wallace doesn't want to become the story ― every moderator says that. But like it or not, he'll be an integral figure in a political event watched by 60 million to 80 million Americans. And while the moderator does keep the time, the bipartisan Commission on Presidential Debates gives journalists wide discretion over creating questions and wrangling the candidates. That includes the choice of fact-checking, or not.
Wallace proved willing to challenge Trump during his stint co-moderating three Fox News Republican primary debates. He won praise in March for highlighting inconsistencies in Trump's claims about reducing the deficit through a series of on-screen graphics.
"Mr. Trump, your numbers don't add up," Wallace said, before calling for the numbers to appear on screen. (See video at 6:30).
A week after the March debate, Wallace said in a radio interview that Trump "throws around a lot of numbers," so he "thought the only way you could catch him in real time, in effect, what the newspapers do the next day or the blogs do hours later, is fact-check him."
Washington Post "Fact Checker" columnist Glenn Kessler recently told HuffPost that he preferred moderators to incorporate fact-checking into how they framed questions, rather than adjudicating whether a response is true. He cited Wallace's on-screen graphics as an example of this approach.
Progressive watchdog Media Matters on Monday cited Wallace's March interview to suggest the journalist supported fact-checking when it was Trump against other Republicans, but no longer does now that Trump is head-to-head with Hillary Clinton.
Though Wallace is unlikely to follow Holt's lead in calling out false claims, he may preemptively fact-check in a way similar to the March debate.
Todd Graham, debate director at Southern Illinois University Carbondale, suggested Tuesday on CNN that Wallace follow his own example if he's not going to fact-check the candidates.
"You can show a slide of Hillary Clinton saying something. And then you can say, 'Now Secretary Clinton, since you've said that, what's your position now?'" Graham said.
"You can do the same thing with Donald Trump," Graham continued. "Donald Trump is very good at saying, 'I never said that. I don't believe that.' It looks bad to fact-check him afterwards, perhaps Chris Wallace is thinking. But if you simply put up his quotation before the question, or put up the slide before the question, then it puts him in a corner where he has to defend those words or say, 'Yes, I did say that, but I changed my mind.'"
Wallace, the son of the late "60 Minutes" legend Mike Wallace, enjoys a reputation for grilling candidates on both sides of the aisle. While Trump has largely abandoned most of the media for Fox in recent months, he's notably turned to sympathetic hosts like Sean Hannity, Bill O'Reilly, Lou Dobbs, and the "Fox & Friends" crew. He's avoided more adversarial Fox hosts like Wallace, Megyn Kelly, and Shepard Smith.
Still, Wallace ― the first presidential debate moderator from Fox News ― has faced scrutiny over the appearance of a conflict of interest involving over his former boss, Roger Ailes.
When Ailes stepped down in July amid widespread sexual harassment allegations, it was announced that the outgoing Fox News chairman would continue to advise Rupert Murdoch, who became the network's interim CEO and remains co-executive chairman of parent company 21st Century Fox. Ailes, a veteran Republican operative who counseled three former presidents before Fox News' launch, has also reportedly been advising Trump on his debate preparations.
"Roger has zero influence on our news coverage as he's no longer with the network," a Fox News spokesperson told HuffPost.
Frank Fahrenkopf, the Republican co-chair of the Commission on Presidential Debates, also voiced his support for Wallace in an email to HuffPost.
"I have complete confidence in the integrity of Chris Wallace as I did with the other moderators in this cycle," Fahrenkopf wrote.
Popular in the Community