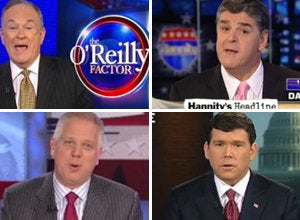 In a sign of just how dominant Fox News is in the cable news network ratings game, the network easily won the rankings in the first quarter of 2009, averaging more viewers than competitors MSNBC and CNN combined — and in the process claimed nine of the top the program spots.
For the quarter, Fox News was the #2 cable channel in prime time, averaging 2,250,000 total viewers (behind only the USA juggernaut, which averaged 3,115,000 total viewers). CNN placed 17th with an average of 1,126,000 total viewers, while MSNBC placed 24th, with an average of 950,000 total viewers.
In total day ratings, Fox News ranked 5th among all cable channels in total viewers, while CNN placed 14th and MSNBC placed 28th.
"The O'Reilly Factor" — which in March celebrated its 100th consecutive month as cable news' top-rated show — was the #1 cable news program in Q1, averaging 3.4 million total viewers, a 27% increase over a year ago. Rounding out the top five were "Hannity" (up 36% over Q1 2008), "Glenn Beck" (up 90%), "Special Report with Bret Baier" (up 39%), and "On the Record with Greta Van Susteren" (up 26%). MSNBC's "Countdown with Keith Olbermann," which came in tenth with 1.3 million total viewers, was the only non-Fox News show to crack the top ten.
The top ten programs for Q1 are listed below — incidentally, the same order held for March 2009.
Top 10 Cable News Programs, Q1 2009 (by total viewers)
1. The O'Reilly Factor: 3,438,000 total viewers
2. Hannity: 2,579,000 total viewers
3. Glenn Beck: 2,271,000 total viewers
4. Special Report with Bret Baier: 2,092,000 total viewers
5. On the Record with Greta Van Susteren: 1,977,000 total viewers
6. The FOX Report with Shepard Smith: 1,927,000 total viewers
7. The O'Reilly Factor (repeat): 1,457,000 total viewers
8. America's Newsroom: 1,445,000 total viewers
9. Your World with Neil Cavuto: 1,428,000 total viewers
10. Countdown with Keith Olbermann: 1,327,000 total viewers
Popular in the Community