Fox News and the network's affiliate in Washington, D.C., are advancing a conspiracy theory about the death of former Democratic National Committee staffer Seth Rich, suggesting in two stories on Monday that Rich's slaying may be the result of his supposed links to WikiLeaks.
The only named source in both stories is Rod Wheeler, a former Washington Metro Police investigator and Fox News contributor who has previously claimed that "a national network" of armed lesbians was roaming the country and sexually assaulting children. Despite his history of unreliable and unverified claims, it does not appear either Fox 5 or Fox News independently verified the sources he cited.
Police have said Rich was fatally shot in July during a botched robbery attempt. But Reddit users and online conspiracy sites were quick to argue that Rich played a part in WikiLeaks obtaining and leaking thousands of internal DNC emails — implying that Democratic presidential nominee Hillary Clinton and the Democratic Party had him killed as retaliation.
Multiple sources have publicly contradicted this, however: The U.S. intelligence community released a report in January concluding that WikiLeaks obtained its material last summer from Russia-backed hackers working as part of a Russian effort to help make Donald Trump president.
Still, Fox News contributor Ed Butowsky hired Wheeler to investigate Rich's death, according to MSNBC.
We now have an update on Wheeler's "probe," because Fox News and Fox 5 decided to publish his unverified claims. Wheeler has said he has anonymous sources within the police investigation who have seen evidence of ties between the former staffer and WikiLeaks. He has also asserted that Clinton and her allies, the DNC or the D.C. government must be covering up evidence of a conspiracy to kill Rich. 
Fox News and Fox 5 didn't call Washington police officials before suggesting they might be implicated in a conspiracy to cover up a murder, a police spokeswoman told HuffPost. There's no evidence that either outlet spoke to Wheeler's sources or confirmed they exist. 
But Fox News has pushed its story, which also cites an anonymous federal investigator whom it says corroborates Wheeler's claims. Sean Hannity featured a segment about the Fox 5 report during his Monday show, and Laura Ingraham on Tuesday begged for follow-up reporting into the supposed links between Rich and WikiLeaks. Despite its thin sourcing, the story also still led Fox 5's website on Tuesday afternoon.
By then, the original headline on Fox News' story ― "Seth Rich, slain DNC staffer, had contact with WikiLeaks, say multiple sources" ― had changed to "Family of slain DNC staffer blasts detective over report of Wikileaks link." The story's first sentence had also been changed to reflect that Rich's family had dismissed Wheeler's claims, and a quote claiming that "someone within the D.C. government, Democratic National Committee or Clinton team is blocking the murder investigation from going forward" had been removed from the story. (The current versions of the articles can be found here and here.)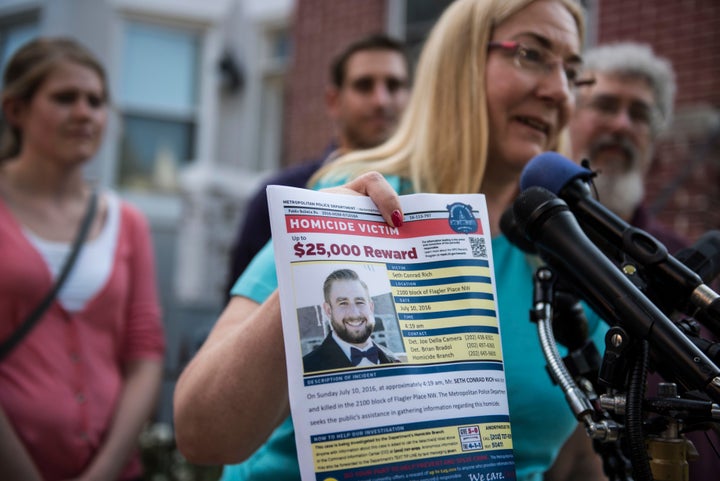 Wheeler did not respond to a request for comment. Fox News and Fox 5 did not respond to requests for comment. D.C. Metro Police said Wheeler's claims were false, and that they are still "actively investigating Mr. Rich's murder and we continue to work with the family to bring closure to this case." 
WikiLeaks has had an interest in Rich's case from its outset and has done little to refute related conspiracy theories. Last year, it offered a financial reward for any information leading to the arrest of Rich's killer. WikiLeaks did not respond to an email asking if Rich had made any contact with or provided any information to the group before his death.
The Rich family issued a statement on Tuesday, accusing the sources behind the reports of "pushing conspiracies." A spokesman for the family said the Riches had told Wheeler he could investigate but not speak publicly about the case. 
"As we've seen through the past year of unsubstantiated claims, we see no facts, we have seen no evidence, we have been approached with no emails and only learned about this when contacted by the press," the statement reads. "Even if tomorrow, an email was found, it is not a high enough bar of evidence to prove any interactions as emails can be altered and we've seen that those interested in pushing conspiracies will stop at nothing to do so."
Calling all HuffPost superfans!
Sign up for membership to become a founding member and help shape HuffPost's next chapter
BEFORE YOU GO
PHOTO GALLERY
19 Of Fox News' Most Unforgettable Moments