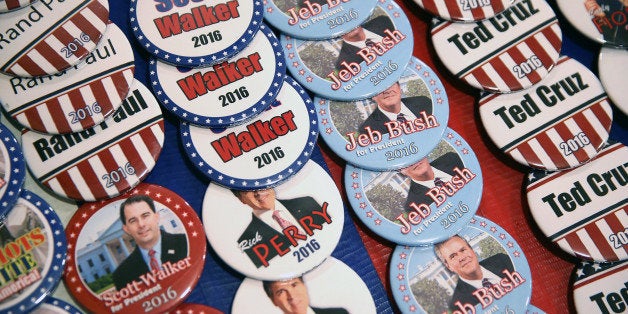 Union Leader publisher Joseph McQuaid told The Huffington Post on Thursday that the paper is still going forward with its event.
"Our plans haven't changed, though I am eager to see just how Fox will structure its forum," McQuaid wrote. "The bottom line for us is doing what we can to protect the New Hampshire Primary."
Fox News said last month that only candidates in the top 10 of an average of national polls will get on the Cleveland debate stage in August, a decision that could exclude current or former governors and senators in the crowded Republican field. Some Republican campaigns and state party officials have expressed concerns over the debate selection process, arguing that candidates might spend more time on cable news trying to boost national polls than in early voting states.
On Wednesday, a group of 56 New Hampshire Republicans called on Fox News to change its criteria. Soon after, the Union Leader announced plans for a candidates' forum in the state that would be broadcast on C-SPAN the same day as Fox News' debate.
When rolling out its debate criteria last month, Fox News said the network would give additional airtime to candidates who didn't make the primetime cut, without specifying what that coverage would entail. On Wednesday evening, the network announced that Bill Hemmer and Martha MacCallum will moderate a 90-minute forum at 1 p.m. on Aug. 6 for candidates who have at least 1 percent in national polls but who aren't in the top 10. That night, Fox News will broadcast its 90-minute debate with the top 10 finishers, moderated by Chris Wallace, Megyn Kelly and Bret Baier.
The Republican National Committee reined in the debate schedule this election cycle after a bruising 20 debates in 2012, a nominating process that some in the party believe hurt the party going into the general election. The RNC has announced nine sanctioned debates for 2016, with candidates penalized for participating in other debates.
But there's something of a loophole in the otherwise strictly controlled process. Candidates may participate in forums in which they speak to the audience rather than debating one another.
Steve Duprey, the New Hampshire representative for the RNC, told National Journal that his understanding, based on conversations with the national party organization, is that candidates at the Union Leader's forum would speak one at a time and not engage with each other on stage.
But McQuaid told National Journal it's "false" to say the Union Leader would only have one candidate speak at a time and suggested the forum would have multiple candidates on stage simultaneously.
"We haven't nailed down a format yet," McQuaid told HuffPost. "Not sure about who engages whom and how but I wouldn't bother watching an event where the candidates couldn't even stand, sit, or run in place on the same stage at the same time."
Related
Popular in the Community