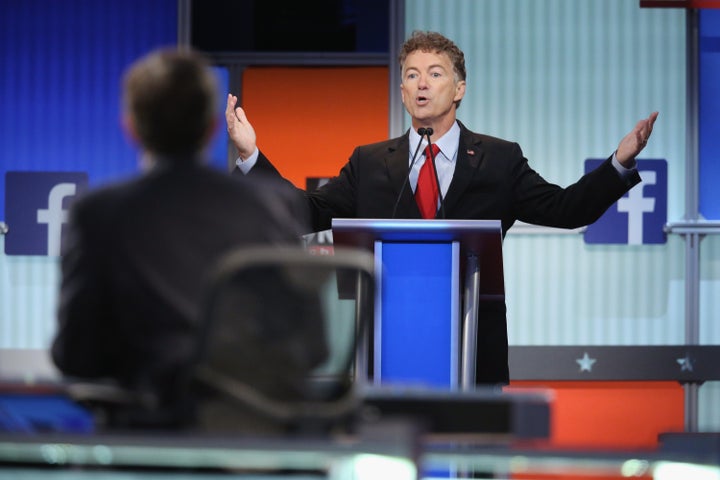 NEW YORK – While Donald Trump famously complained for weeks about tough questions from Fox News moderator Megyn Kelly at the Aug. 6 Republican debate, Kentucky Sen. Rand Paul leveled his own charge of mistreatment Monday.
"And then everybody wonders why he's doing well in the polls," Paul said. "Maybe we shouldn't predetermine to give somebody who really isn't even a good Republican, or a good conservative — maybe we shouldn't be predetermining to give them twice as much time as everybody else."
Michael Clemente, executive vice president for news, shot down Paul's claim in a statement to The Huffington Post.
"There is zero truth to Senator Rand Paul's accusation," Clemente said. "While Trump was given the first question by virtue of his standing in the national polls, time was allotted as equally as possible, given the back and forth and interruptions that occurred."  
Trump did get the most speaking time at the Fox News debate, but according to an NPR analysis, while the real estate developer got twice as much time as Paul, he had less of an advantage over the other candidates.
Trump clocked in at 10 minutes and 30 seconds, with Jeb Bush next at 8 minutes and 33 seconds. Given their standing in the polls at debate time, Trump and Bush had the prime spots in the center of the stage.
Several candidates got around 6 and a half minutes, with Paul at 4 minutes and 51 seconds.
Despite Paul's gripe Monday about the time allotted to non-Trump candidates, a campaign spokesman told The Huffington Post they have no issue with Fox News's overall handling of the contest. 
"We don't have a problem with the way the debate was conducted, he was simply pointing out that he got significantly more time than most," the spokesman said. "We've said repeatedly we thought the debate was tough but fair."
Fox News scored a ratings record for presidential primary debates, with Trump's presence surely a big factor in 24 million people tuning in. If Trump stays atop the polls, he'll also get center-stage treatment when CNN broadcasts the second debate on Sept. 16.  
Calling all HuffPost superfans!
Sign up for membership to become a founding member and help shape HuffPost's next chapter