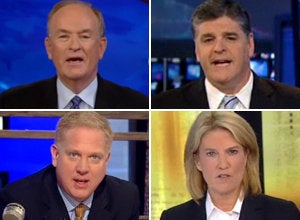 Fox News has pulled off another dominant quarter, claiming the top 10 cable news programs in 3Q 2009 and growing against 3Q 2008, while CNN and MSNBC lost substantial portions of their election-boom audience.
Fox News averaged 2.25 million total viewers in prime time for the third quarter, up 2% over the previous year. That's more than CNN (946,000, down 30%) and MSNBC (788,000, down 10%) combined.
"The O'Reilly Factor" led all cable news programs with an average of 3.295 million total viewers for the quarter, up 12% over the previous year. "Hannity" (2.603 million, up 9%), "Glenn Beck" (2.403 million, up 89%), "On the Record with Greta van Susteren" (2.150 million, up 16%), and "Special Report with Bret Baier" (1.997 million, up 20%) rounded out the top five.
Meanwhile, flagship programs at MSNBC and CNN did not sustain their growth from 3Q 2008: At MSNBC, "Countdown with Keith Olbermann" averaged 1.087 million total viewers, down 12% from the previous year and "The Rachel Maddow Show" averaged 996,000 total viewers (Maddow began the program in September 2008, so a comparison for the quarter would be inaccurate; compared to September 2008, though, Maddow's September 2009 total viewer average is down 40%). At CNN's "Anderson Cooper 360" averaged 1.005 million viewers, down 17% from the previous year and "Lou Dobbs" averaged 658,000 total viewers, down 24%. Larry King and Campbell Brown were both down just slightly in total viewers.
CNN in particular had a rough quarter in the primetime Adults 25-54 demo: the network dropped 39% compared to 3Q 2008, averaging 287,000 viewers.
Full 3Q program rankings below, embedded via DocStoc:
Related
Popular in the Community