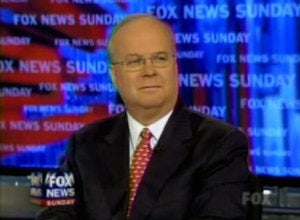 Rove first appeared on Fox as an "FNC political contributor" on Super Tuesday (February 5), and it took the network 118 days to acknowledge his affiliation with McCain, according to ThinkProgress' "Rove Watch Clock."
The mention slipped out during an interview with Rove on Hannity & Colmes, when Colmes asked him a question about Obama (see video below):

"Look, Karl, I know you're supporting McCain. But how do you know -- and I know you've helped informally advise McCain -- but how do you know that he's a weak general election candidate?"
Last month, Amanda Terkel and Matt Corley remarked in Salon that Rove was regularly introduced on Fox as a "former senior advisor to President Bush," "the architect," a "political wizard" and a "famed political consultant" — but his connection to McCain was never disclosed.
Related
Popular in the Community