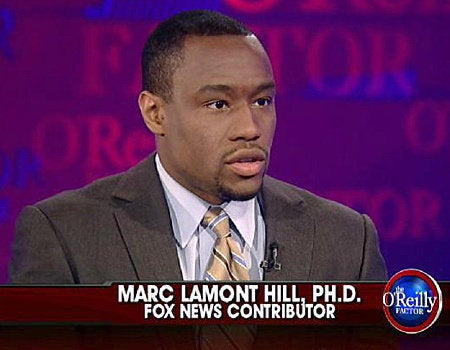 Liberal Fox News analyst Dr. Marc Lamont Hill has been fired, News Corp CEO Rupert Murdoch revealed at a shareholder's meeting Friday.
Murdoch made the announcement after being asked about Hill's "reputation of defending cop killers and racists."
"Relax, y'all. Don't believe the internet rumors," Lamont Hill tweeted earlier today, but he would later confirm the news to the Huffington Post, saying, "I am no longer employed by Fox News and grateful for the opportunity and I have nothing bad to say."
I find [O'Reilly's] continued promotion of Professor Marc Lamont Hill an embarrassment to his own standards and an insult to the intelligence of African Americans particularly and his entire audience generally. Tonight he interviewed Hill for an entire segment on the subject of Iran, as though Hill had anything intelligent to say on the subject. Mr. Hill do you think we should give Iran three months or six months to let the UN inspectors in? How would Marc Lamont Hill know? How would he even be in a position to make an intelligent speculation? By his own account, Hill is an expert on "hip-hop culture," i.e., rap music. His academic degree is in education. What are his views on foreign policy worth, unless putting him on was designed to show up the shallow views of the left?
Since then, as the Hollywood Reporter reports, Lamont Hill "has been the target of increasing criticism on the blogosphere for alleged sympathies to controversial figures including Assata Shakur and Mumia Abu-Jamal." He also defended Van Jones on Fox News' "On the Record with Greta van Susteren."
Lamont Hill did appear on "The O'Reilly Factor" as recently as last week, embedded below:
Popular in the Community