UPDATE: The executive producer of Fox & Friends told POLITICO that she sees no error in the graphic. Producer Lauren Petterson:
"We were just talking about three interesting pieces of information from Rasmussen," Petterson said. "We didn't put on the screen that it added up to 100 percent."
Since Petterson saw no error in the presentation, no one will be reprimanded under the broadcaster's "zero tolerance for on-screen errors policy." However, Petterson did acknowledge that the graphic "could have been a little clearer."
Fox News must have used some fuzzy math to create its own analysis of a recent Rasmussen poll on climate change.
On a December 4th episode of Fox & Friends, a graphic was displayed with the question heading: "Did scientists falsify research to support their own theories on global warming?" The results shown below indicated that 59% of people believed this was "somewhat likely," while 35% thought it was "very likely" and 26% considered it "not very likely."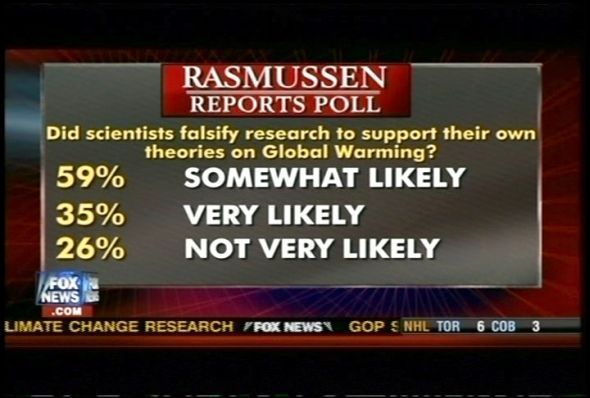 If their math is correct -- which it can't be -- this leaves a whopping and statistically impossible total of 120%, 94% of which believe that scientists were at least "somewhat likely" to have falsified research to support their own theories. Could this be the first documented evidence of "climath" change?
"[Rasmussen] asked respondents: 'In order to support their own theories and beliefs about global warming, how likely is it that some scientists have falsified research data?' According to the poll, 35 percent thought it very likely, 24 percent somewhat likely, 21 percent not very likely, and 5 percent not likely at all (15 percent weren't sure)."

"Fox News' graphics department added together the 'very likely' and 'somewhat likely' numbers to reach 59 percent, and called that new group 'somewhat likely.' Then, for some reason, they threw in the 35 percent 'very likely' as their own group, even though they already added that number to the 'somewhat likely' percentage. Then they mashed together the 'not very likely' and 'not likely at all' groups, and threw the 15 percent who were unsure into the waste bin. Voila -- 120 percent."
Calling all HuffPost superfans!
Sign up for membership to become a founding member and help shape HuffPost's next chapter