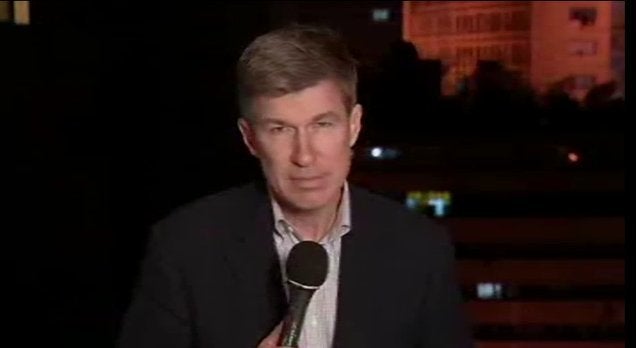 UPDATE: The Wrap reports that the Fox News team beaten and detained in Egypt were also accused of being Israeli spies.
The site writes that Greg Palkot and Olaf Wiig were taken to the hospital after being severely beaten—at which point they were detained by Egyptian military police, who accused them of being Israeli spies. Palkot was also blindfolded throughout the interrogation.
Fox News executives contacted the State Department, who helped secure the team's release.
ORIGINAL POST: Fox News foreign correspondent Greg Palkot and producer Olaf Wiig were badly beaten in Egypt on Wednesday night. As their colleague John Roberts described it on Thursday:
They were forced to leave their position when a Molotov cocktail was thrown at it, a large fire erupted. They were forced to flee. They ran out and ran right into the pro Mubarak crowd and were severely beaten and had to be taken to the hospital, spent the night in the hospital. The extent of their injuries was fairly grave, however, they have been released from the hospital.
There have been scores of attacks and detentions of journalists from around the world. Among the incidents: ABC News producers were threatened with beheading, Anderson Cooper has been attacked twice, and CBS' Lara Logan had been detained by Egyptian police.
Calling all HuffPost superfans!
Sign up for membership to become a founding member and help shape HuffPost's next chapter