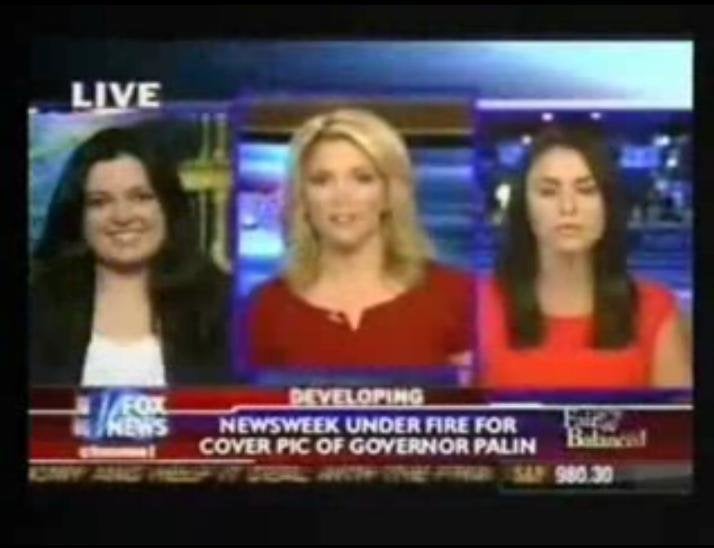 So, have you seen the cover of this week's Newsweek, with vice-presidential candidate Sarah Palin in extreme close-up, revealing that the GOP's latest celebrity actually ages, and has slight wrinkles, like us mortals? Yeah, well, the good folks at Fox News aren't having any of it! The fact that this image was shot in this way, without an eye toward touching the image up digitally, is unfair. This morning, they gave this issue - that will help many of you decide how to vote, no doubt! - a thorough going-over. They even called in outside experts to discuss photoshop and alterations!
The overall message seems to be that the failure to alter a picture is a clear demonstration of liberal bias. How ironic! Because there was never a need to ask for outside opinion on this matter. As Jane Hamsher notes, Fox News has plenty of in-house expertise on how digital image alteration can help provide conservative "balance." Or have you forgotten: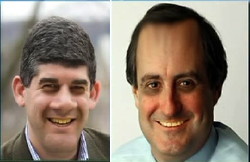 On the July 2 edition of Fox News' Fox & Friends, co-hosts Steve Doocy and Brian Kilmeade labeled New York Times reporter Jacques Steinberg and editor Steven Reddicliffe "attack dogs," claiming that Steinberg's June 28 article on the "ominous trend" in Fox News' ratings was a "hit piece." During the segment, however, Fox News featured photos of Steinberg and Reddicliffe that appeared to have been digitally altered -- the journalists' teeth had been yellowed, their facial features exaggerated, and portions of Reddicliffe's hair moved further back on his head. Fox News gave no indication that the photos had been altered.

After putting up the photos of Steinberg and Reddicliffe, Fox & Friends also featured a photograph of Steinberg's face superimposed over that of a poodle, while Reddicliffe's face was superimposed over that of the man holding the poodle's leash.
Insert "lipstick on a pig" joke here, I guess!
Popular in the Community