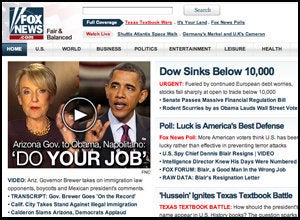 Fox News is launching a website specifically targeted at the Latino population.
FoxNewsLatino.com will launch this fall, the network announced this week, and will "feature the latest breaking news, politics, economic and lifestyle stories that impact the Latino community."
The site will feature videos in both English and Spanish, and will include reports filed from the US as well as Central America, South America, the West Indies, and beyond.

"The launch of FOX News Latino creates an unprecedented opportunity to expand our reach by engaging a new audience and providing a unique platform on which web users can access compelling content focused on the Latino community and the American dream," Fox News Senior Vice President for News-Editorial Michael Clemente said in an announcement.
"About a third of the country is going to be of Latino heritage by 2050 and we thought it was time to launch a site with more of a focus," he told Reuters. But he cautioned that the network was unlikely to launch a TV network for the Latino community.
"It's not on the drawing board. There's just too much to be had among the 700 cable channel universe right now," he said.
Popular in the Community