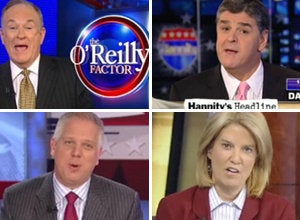 Fox News again won the cable news ratings race in the second quarter of 2009, averaging 2.122 million total viewers in primetime and taking the top 10 programs in cable news for the first time ever. Through the end of June 2009 the network has had its best six months ever and is on pace for its best year ever.
"The O'Reilly Factor" was the #1 program in cable news, averaging 3.191 million total viewers, up 31% over the second quarter of 2008. "Hannity" averaged 2.345 million total viewers (up 33%); "Glenn Beck" averaged 2.053 million total viewers (up 110%); "On the Record with Greta van Susteren" averaged 1.950 million total viewers (up 45%); and "Special Report with Bret Baier" averaged 1.889 million total viewers (up 41%) to round out the top five. "The Fox Report with Shepard Smith," the 11PM repeat of "The O'Reilly Factor," "America's Newsroom," "Your World with Neil Cavuto," and "Studio B with Shepard Smith" rounded out the top 10, all up double digits over Q2 2008.
In addition, Fox News was the #3 cable network in primetime, behind only USA and TNT. CNN was #23 in primetime and MSNBC came in #25 (see below). In total day, Fox news took the #5 spot, behind Nickelodeon, Nick at Nite, USA, and TNT.
Cable News Program Ranker, Total Viewers, Q2 2009:
Cable Network Ranker, Primetime and Total Day, Q2 2009:
Related
Popular in the Community