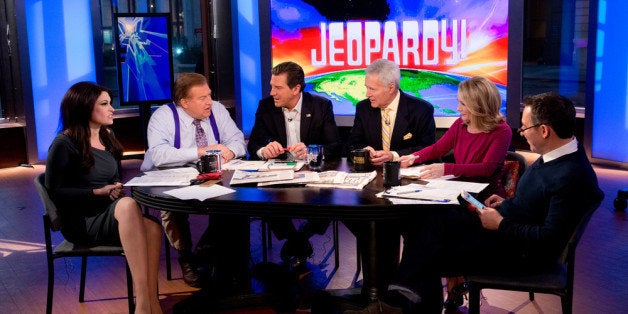 Fox News is launching a new, noon-hour program at the end of April.
"Outnumbered" will debut on April 28 at 12 PM EST and will consist of five panelists discussing the top stories of the day, much like the structure of Fox News' current 5 PM show, "The Five."
"Happening Now," which currently airs from 11 AM to 1 PM, will now run as two split one-hour programs at 11 AM and 1 PM.
The network said "Outnumbered" will feature a rotating panel of four female hosts and one male host who will offer a "fresh take" on the news, Variety reported. Fox News' weekend anchor Harris Faulkner and Fox Business Network's Sandra Smith will be two of the rotating panelists, along with appearances from "The Five's" Kimberly Guilfoyle and Andrea Tantaros, Variety said Wednesday. The name, "Outnumbered," is likely a nod to the one male host, who will change every day.
"'Outnumbered' combines a distinctive group of Fox talent with unique experiences and insights that will make for compelling news programming," Fox News Channel Vice President of News Jay Wallace said in a statement.
Buzzfeed's Dorsey Shaw jokingly tweeted this screenshot from Fox News:
NOTE: This post has been updated to clarify that Dorsey Shaw's tweet above was not an actual screenshot from the show, but just a joke.
Calling all HuffPost superfans!
Sign up for membership to become a founding member and help shape HuffPost's next chapter