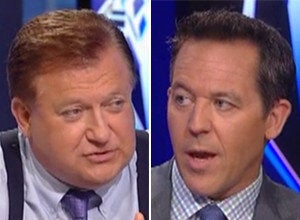 UPDATE: Greg Gutfeld and Bob Beckel told the Associated Press that they were only joking when they said they'd held back from criticizing Sarah Palin.
Beckel said that nobody at Fox News has ever told him to hold back about anyone, and that "I'd punch them out if they did."
ORIGINAL POST: Two Fox News hosts admitted on Wednesday that they have sometimes held back from criticizing Sarah Palin because she is their "coworker."
Greg Gutfeld and Bob Beckel, co-hosts of Fox News' 5 PM show "The Five," were discussing Palin—who makes at least $1 million a year as a Fox News contributor—on the show Tuesday. Gutfeld, who also hosts the late night show "Red Eye," said he felt awkward whenever the subject came up.
"The only problem with talking about Sarah Palin is that she works here, and it's like a coworker," he said. "And if I say something bad and I see her in the hallway I feel really awkward and wrong. So I just kind of say, 'that was a good job!'"
"It has nothing to do with that," he said. "It has everything to do with your paycheck. That's why you feel awkward. I know exactly what you mean. I'll be honest, I've pulled my punches."
WATCH:
Calling all HuffPost superfans!
Sign up for membership to become a founding member and help shape HuffPost's next chapter