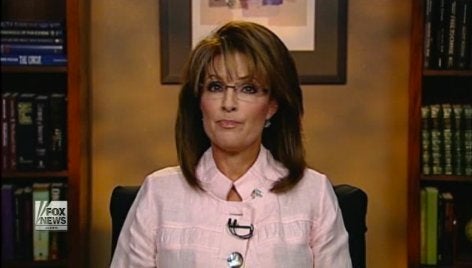 Fox News announced Thursday that, despite renewed rumors about her potential presidential run, Sarah Palin will remain on the network as a paid contributor.
With reports that she has bought a house in Arizona, and the announcement of a national bus tour, Palin has suddenly thrust herself back in the spotlight and set off a new round of speculation that she may yet run for the 2012 Republican nomination. Previously, a Palin run was considered less likely with each passing day.
The rumors raised questions about Palin's status with Fox News. The network has long courted controversy by employing so many potential presidential candidates, including Palin, Newt Gingrich, Rick Santorum and Mike Huckabee. But Fox News has always said that it will sever ties with anyone who enters the presidential race, and it followed through with that by axing Gingrich and Santorum from the payroll and by pressuring Mike Huckabee to finally announce whether or not he was running. (He bowed out of the race, and has thus stayed on the network.)
But Fox News' executive vice president, Bill Shine, said in a statement that, for now, Palin will stay right where she is.
"We are not changing Sarah Palin's status," Shine said.
The announcement also comes after a New York magazine story which alleged that relations between Palin and Fox News CEO Roger Ailes have turned rocky, and that Ailes thinks the former Alaska governor is "stupid." Fox News aggressively pushed back against that claim.
Calling all HuffPost superfans!
Sign up for membership to become a founding member and help shape HuffPost's next chapter