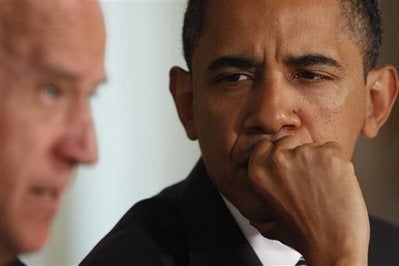 For those convinced that Barack Obama could not possibly have given up smoking cigarettes in the midst of a presidential campaign, a historic presidency, a Great Depression-like economic crisis, and multiple wars, take solace, you're not alone in your skepticism.
Fox News Opinion Dynamics, as is their custom, asked a few generally out-there questions at the end of its latest survey, released on Thursday. Among them:
Barack Obama says he quit smoking cigarettes. Do you think Obama is still sneaking cigarettes at the White House or do you think he has completely quit smoking?
The response was remarkably consistent. Virtually the same percentage of Democrats, Republicans and Independent voters are convinced that Obama still sneaks a smoke or two.

* 37 percent of Democrats believe he is still sneaking; 37 percent believe he completely quit.
* 38 percent of Republicans believe he is still sneaking; 27 percent believe he completely quit.
* 38 percent of Independents believe he is still sneaking; 25 percent believe he completely quit.

This was not, to be sure, the only bizarre question Fox News included in its survey. The respondents were also asked who they would most like to meet and have their picture taken: Obama, The Pope, Tiger Woods or Hannah Montana.
The president faired well on this front; he was the preferred photo-op for 68 percent of Democrats and 38 percent of Independents respectively. Republicans, however, preferred both his eminence (31 percent) and the world's best golfer (34 percent) over the commander in chief (18 percent), when it came to getting their pictures taken. Hannah Montana, alas, was the least preferred of the bunch, regardless of the respondents' ideological leaning.