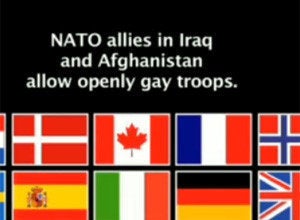 WASHINGTON -- Fox News has rejected an advocacy group's ad on repealing Don't Ask, Don't Tell (DADT), in which generals from around the world say that allowing gay men and women to serve openly is no big deal.
"I am surprised that Fox News would reject an ad featuring allied Generals, given that both host Bill O'Reilly and guest contributor Liz Cheney have expressed support for open gay service," said Palm Center director Aaron Belkin in a statement. "This is an important time for input from all sides on this issue, and I hope Fox will reconsider."
The ad features commanders from Canada and Australia, countries which have successfully integrated their forces, talking about how the change has had no effect on the capability or morale of their military.
"There is no negative impact of having men and women of any sexual orientation fighting together, be it in Afghanistan, be it in Iraq," states Major General Walter Semianiw, chief of military personnel in the Canadian forces.
The Palm Center's communications consultant Cathy Renna said that the organization approached Fox News because it wanted to get its message across to "diverse audiences."
"The ad was misleading based on its presumption," said Dianne Brandi, Fox News executive vice president of Legal and Business Affairs, in a statement to The Huffington Post when asked why the network rejected the spot.
Palm Center Deputy Executive Director Christopher Neff took issue with Fox's characterization of the ad.
"They're [objecting to] the opening sentence, that says, 'As the military prepares to end 'Don't Ask, Don't Tell,' he told The Huffington Post. "Their position is that DADT is on hold, and our position is that the Secretary of Defense said on March 2, 2010, 'We also must develop an implementation plan for any new statutory mandates.' That's what he said in his directive and memo after the president's State of the Union address and after their hearing in Congress."
Neff said that the Palm Center also approached NBC/MSNBC with the ad, and that network had no problem with the actual content. "We've heard back that they're happy to run it," he said. "We just need to work out the details on the formatting on the thing. We've talked to MSNBC and NBC, and we haven't run into any problems with regard to accuracy and content. The only issue that we're working on with them is just putting it into the file format."
Other progressive groups, including Media Matters, VoteVets and the Center for Constitutional Rights, have also tussled with Fox News in the past when trying to broadcast advocacy ads.
Popular in the Community